Trento, 13 September 2020
Great Itas Trentino: 3-2 come from behind victory against Lube at the first round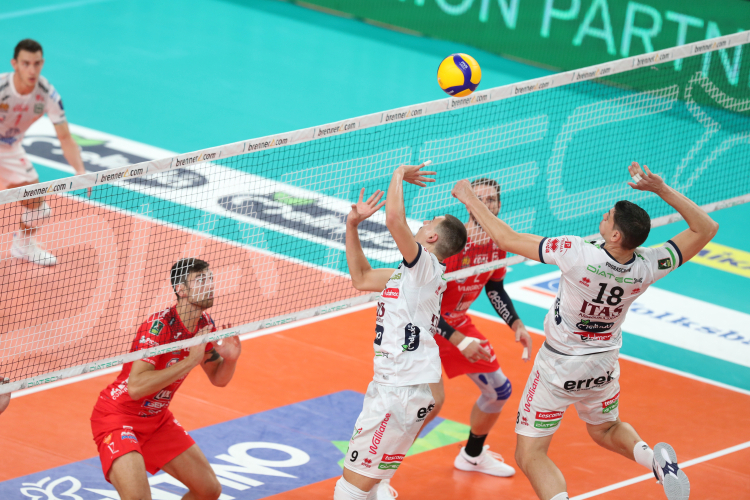 The 21st Season of Trentino Volley's activity has started in a blaze of glory. After six months, going back at the BLM Arena has been great for Itas Trentino, able to win 3-2 against Lube Civitanova at the first round of the semi-final of Del Monte® Supercup 2020. The result achieved by the new line-up organised by Angelo Lorenzetti is an important first step toward the final at the Arena of Verona, on the 25th September. However they still need to confirm their victory in seven days, in Marche, at least winning again at the tie-break at the second leg too. Giannelly and the other players got to build up a small lead thanks to their performance, not always constant but surely full of determination. Indeed, beyond some technical-tactical aspects, this is the only way to explain the double-comeback (from 0-1 to 1-1 and from 1-2 to 2-2) against the opponent team, that had shown a great ability at the attack, above all on place 4. After the defeat 16-25 during the third set, the gialloblù team changed completely the strategy, both at the attack and at the serve thanks to the ability of Nimir, Kooy and Michieletto, good substitute of Lucarelli, as well as Cortesia for Lisinac. The Dutch opposite spiker, at the end MVP scoring 20 points of which 4 at the serve and one at block, led the team first to the tie-break and then to the victory, also thanks to the excellent support of the players at place 4, two of them got 27 scores.
Further information about the first round of the semi-final of Del Monte® Supercup, played tonight at the BLM Group Arena in Trento.
Itas Trentino-Cucine Lube Civitanova 3-2
(21-25, 25-19, 16-25, 25-21, 15-9)
ITAS TRENTINO: Abdel-Aziz 20, Kooy 18, Cortesia 8, Giannelli 3, Michieletto 9, Podrascanin 12, Rossini (L); Sperotto 1, Argenta, De Angelis, Sosa Sierra. N.e. Acuti, Bonatesta. All. Angelo Lorenzetti.
CUCINE LUBE: De Cecco, Juantorena 16, Anzani 9, Rychlicki 10, Leal 19, Simon 14, Balaso (L); Hadrava 3, Kovar 1, Yant, Diamantini 1. N.e. Marchisio, Larizza, Falaschi. All. Ferdinando De Giorgi.
REFREES: Boris from Pavia e Puecher from Padova.
SET LENGTH: 27', 27', 24', 29', 15'; tot 2h and 2'.
NOTES: 869 spectators, for a proceed of 8.230 euro. Itas Trentino: 7 blocks, 13 aces, 20 errors during serve, 4 errors during actions, 49% in attack, 64% (36%) in receiving.
Cucine Lube Civitanova: 10 blocks, 5 aces, 26 errors during serve, 3 errors during actions, 57% in attack, 57% (27%) in receiving. MVP Abdel-Aziz.
Trentino Volley Srl
Press Office