Trento, 15 September 2020
Giannelli: "The qualification for the Final goes through a great performance"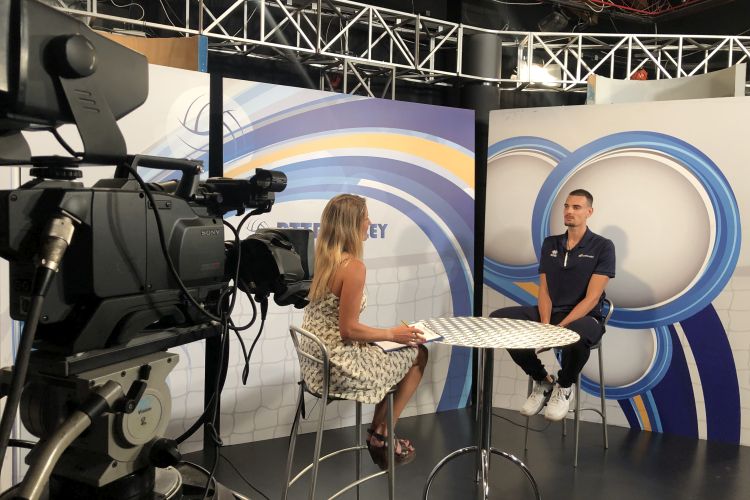 The third episode of the 2020/21 season of "RTTR Volley" - the partner TV dedicates this broadcast to Trentino Volley every week - was characterized by the presence in the studio of Simone Giannelli. During the chat with the host Sara Ravanelli, the Captain touched on several topics. Here are some of the most significant moments.
BACK TO THE FIELD. "Playing an official match after six months of waiting was very strange and completely different from the past. Everyone was lacking of race pace, even in Civitanova, and this explains the many ups and downs that affected the performance of both teams. Beyond that, however, it was a good match, especially as it marks the start of a new season."
AUDIENCE. "Meeting our audience was exciting, also because up until now nobody had been able to enter the BLM Group Arena between joint training and preparation. It couldn't be as crowded as usual but it was once again warm. I didn't think the fans were able to make themselves heard so much and it was great to feel the boost".
CONNECTIONS. "The game mechanisms obviously need to be refined, because the squad has been completely renewed compared to last season but I can already say today that I get along well with this group and it is stimulating to work like this. We are all ready and determined to work for great results; we are on the right path both from a technical point of view and from that linked to relational dynamics".
SUPERCOPPA. "I'm happy to have started the season with a great victory over Civitanova, but the result is also useful in terms of the path we would like to take in Supercoppa. It is a difficult path, because to get through the round we still have to get a great result at the Eurosuole Forum; it is true that we never won at that venue but I don't believe in this type of statistics or negative traditions. If we play well we will have the opportunity to make the qualification, regardless of where the match takes place. To go through against a team like Lube you have to play a great match. I regret that the final cannot be played at the Verona Arena, but the truth is that we are not thinking about it yet".
TOWARDS CIVITANOVA. "What has just begun will be a week of training at the BLM Group Arena to be lived to the fullest in order to get ready for the second leg. We want to take our shot and we know that a lot depends on the way we work at the gym as we approach this appointment".
Trentino Volley Srl
Press Office