Civitanova Marche (Macerata), 20 September 2020
Supercoppa, Eurosuole Forum still cursed for Itas Trentino: Lube wins at the golden set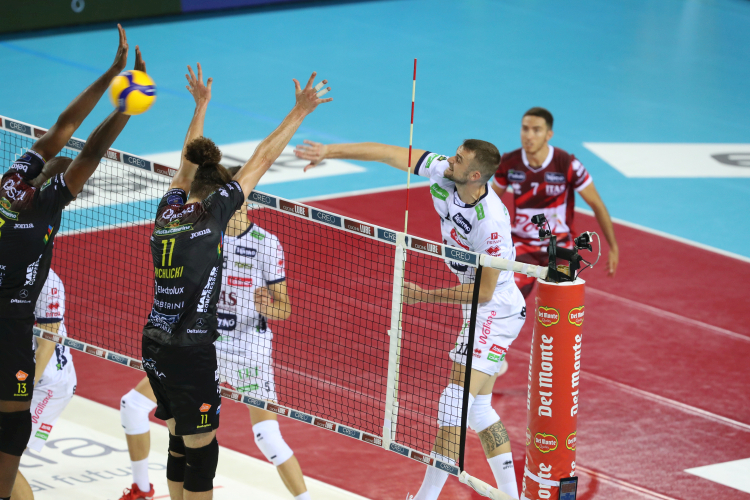 The Eurosuole Forum of Civitanova Marche is still cursed for Itas Trentino. While showing off a strong, generous and combative performance, the giallo-blù team again had to record a tie break defeat in the Marche facility this evening (never won in sixteen matches so far), then also losing the golden set playoff for 12 -15, which then presented the pass for the Del Monte® Supercoppa 2020 Final to Cucine Lube.
Without Lucarelli (on the field only for a few serves, he scored his first point wearing the giallo-blù jersey) and Lisinac, the yellow-blue team still made their stand, fighting until the end against Lube, in a match similar to the one played seven days earlier at the BLM Group Arena. The Marche team won it because they proved to be more incisive and precise in all the fundamentals (only three errors in attack, 15 winning blocks, and 10 aces), but Trento was able to hold up the comparison to the end, paying dearly for the empty passage of the third set and the exciting final stages of the golden set that rewarded the Cucine Lube. For Lorenzetti's team to underline the 44 points of the Nimir-Kooy couple (equally divided), the most continuous in attack (50% for the opposite spiker, 54% for the hitter) and the last to give up together with a great Giannelli, author of nine winning balls (four only at blocking). In double figures also Alessandro Michieletto (13), who was able to hold the field once again like a true veteran.
Below is the report of the Del Monte® Supercoppa 2020 semi-final second leg match, played tonight at the Eurosuole Forum in Civitanova Marche.
Cucine Lube Civitanova-Itas Trentino 3-2, golden set 15-12
(25-18, 22-25, 25-19, 20-25, 15-11)
CUCINE LUBE: Anzani 9, Rychlicki 13, Leal 19, Simon 18, De Cecco 2, Juantorena 16, Balaso (L); Falaschi, Hadrava, Kovar, Yant. N.e. Marchisio, Larizza. Coach Ferdinando De Giorgi.
ITAS TRENTINO: Cortesia 7, Giannelli 9, Michieletto 13, Podrascanin 7, Abdel-Aziz 22, Kooy 22, Rossini (L); Sperotto, De Angelis, Sosa Sierra, Lucarelli 1, Argenta. N.e. Acuti and Bonatesta. Coach Angelo Lorenzetti.
REFEREES: Cesare from Roma and Vagni from Perugia.
SET DURATION: 23', 31', 26', 25', 19', 17; tot 2h, and 21'.
NOTES: 529 spectators, with proceeds of 11.356 euros. Cucine Lube Civitanova: 15 blocks, 10 aces, 24 serving errors, 3 action errors, 52% in attack, 36% (12%) in reception. Itas Trentino: 10 blocks, 7 aces.
Trentino Volley Srl
Press Office