Trento, 22 September 2020
Champions League, from today available mini-tickets for the round at the end of September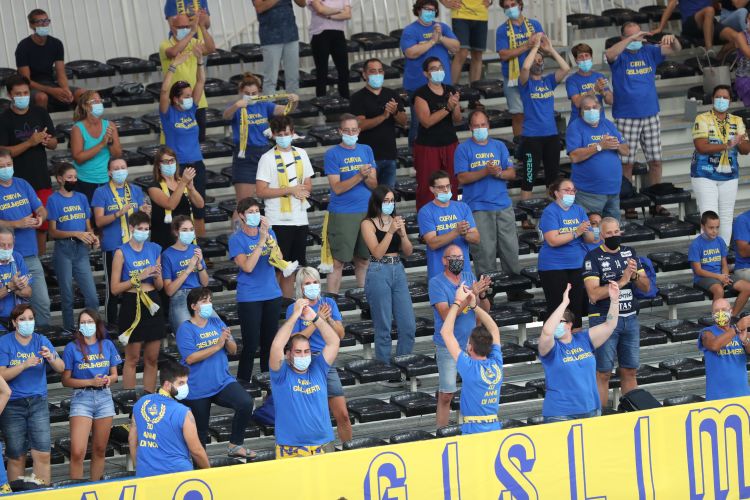 Trentino Volley is ready to begin its path at the 2021 CEV Champions League. The gialloblù line-up will begin its 10th adventure at the main European competition per club playing since the first preliminary stage, hosting at BLM Group Arena the all the matches of Pool F for the first round.
The match against the English team IBB London (scheduled for Tuesday 29th September), the one against the Serbian team Vojvodina Novi Sad (on Thursday 1st October) and the match between these two opponent teams (on Wednesday 30th September) will be all held in Trento, the starting whistle at 8.30pm. For all the matches, Trentino Volley can only allow 1000 spectators to enter the arena in Via Fersina.
For this occasion, the society decided to sell only mini-tickets for all 3 matches (tickets for a single match won't be sold); the initial phase of the sale is exclusively reserved for those who have TRENTINONELCUORE Card 2020/21, they can only buy one ticket for each card signed between Tuesday 22nd and Thursday 24th September, by calling the 0461 421377 or by going in person to the Office of Trentino Volley in Trento, Via Trener 2 (opening hours 8-12 am and 2-6 pm). From Friday 25th September tickets will be available for everyone, as long as there will be left.

There are 5 different kinds of seats, only the possessors of #TRENTINONELCUORE Card will be entitled to a reduced fee:
VIP 50 euros
VIP reduced 40 euros
BEST 50 euros
BEST reduced 40 euros
TERRACES 36 euros
TERRACES reduced 28 euros
GALLERY EAST 28 euros
GALLERY EAST reduced 20 euros
CURVA GISLIMBERTI 28 euros
CURVA GISLIMBERTI reduced 20 euros

At the BLM Group Arena, the spectators must comply with the rules of conduct listed in the Protocol specifically created for this kind of events (click here to download) and have to fill in the auto-certification at the entry of the arena (click here to download). Instead of filling in the auto-certification the spectators can download the App "Immuni" and show their device to the staff at the entry.
Trentino Volley Srl
Press Office