Trento, 25 September 2020
Towards Kioene Padova-Itas Trentino, statistical curiosities about the Giallo-blù debut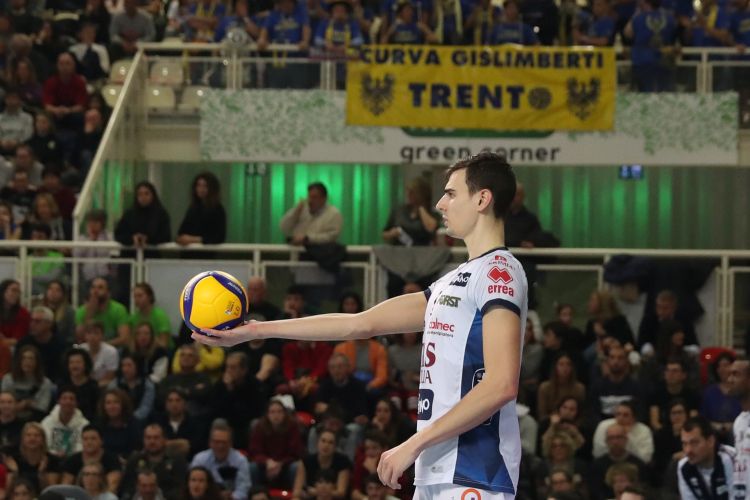 Countdown almost completed for the debut in SuperLega Credem Banca 2020/21. On Sunday 27 September at the Kioene Arena in Padova, Itas Trentino will inaugurate its twenty-first consecutive championship in the top series, facing the traditional match in Veneto, which will be broadcast live by Radio Dolomiti and Lega Volley Channel (www.elevensports.it) at 6pm. Here are some notes and statistical curiosities in view of the match.
DEBUT WITH PADUA THAT SMELLS OF AMARCORD The regular season debut against Padova is becoming a pleasant habit for Trentino Volley. In the past, already in the 2005/06 and 2014/15 seasons, the confrontation with the Venetians took place on the first day, but in those cases (25 September 2005 and 19 October 2014, double success 3-0) it happened within the friendly walls of BLM Group Arena (then called "PalaTrento"). The anniversary becomes even more important if we go back to 22 October 2000: the first home game in the history of Trentino Volley, with Padova then overcome at the tie break in comeback (from 0-2 to 3-2). On that occasion the match was scheduled for the second day (the first match took place in Parma) but it was still an absolute debut for the giallo-blù fans.
FIRST AWAY MATCH IN PADOVA AS IN THE 2011/12 and 2017/18 SEASONS The first away match of the giallo-blù championship will be played in Padova, as had already happened in the 2011/12 season (28 September 2011) and in the 2017/18 one (22 October 2017). A pleasant occasion up to now; in both cases a three-point success (3-0 and 3-1).
IN PADUA THE FIRST AWAY VICTORY IN THE GIALLO-BLU 'HISTORY, IN 2001 The Kioene Arena will never be a sports hall like many others for Trentino Volley, which took its first away victory in its history in this facility, almost twenty years ago. It was January 5, 2001 and Itas Diatec Trentino, coached by Bruno Bagnoli, won 3-1 in what was at the time called Pala San Lazzaro with partials of 19-25, 31-29, 25-21, 26-24. The success, mainly attributable to Goriouchev (MVP with 21 points) and Giombini (19), was able to break a fast of victories that lasted from the first day of the championship and in total from the first six away games of the giallo-blù history.
AWAY DEBUT FOR THE EIGHTH TIME In its over twenty-year history, Trentino Volley has rarely played a match on the first day of the regular season away from Trento: that of Padua will in fact be just the eighth time out of twenty-one occasions. The toll, among other things, is negative, taking into account that only in three circumstances did the success arrive: in Ravenna on 27 October 2013 and 20 October 2019 (double 0-3) and in Monza on 28 October 2015 for 3-1. On the other four occasions, Trentino Volley lost: on 15 October 2000 in Parma (0-3), on 30 September 2001 in Treviso (1-3), on 20 September 2003 in Latina (0-3) and on 30 September 2007 in Wedge (0-3).
GOOD FIRST TAKE IN TWELVE OCCASIONS The debut in the league gave Trentino Volley a smile on twelve out of twenty occasions: in addition to the three away wins already mentioned, nine home wins must be added: 2002/03 season (3-1 against Milan) , 2008/09 (triumph over Forlì in three sets), 2009/10 (3-1 over Latina), 2010/11 (3-0 win over Castellana Grotte), 2011/12 (3-0 win over Monza) , 2013/14 (fifth success with Latina), 2014/15 (3-0 on Padova), 2016/17 (3-0 on Vibo) and 2018/19 (3-0 on Siena).
Trentino Volley Srl
Press Office