Trento, 20 October 2020
Lisinac at "RTTR Volley": "We have everything we need to achieve great results"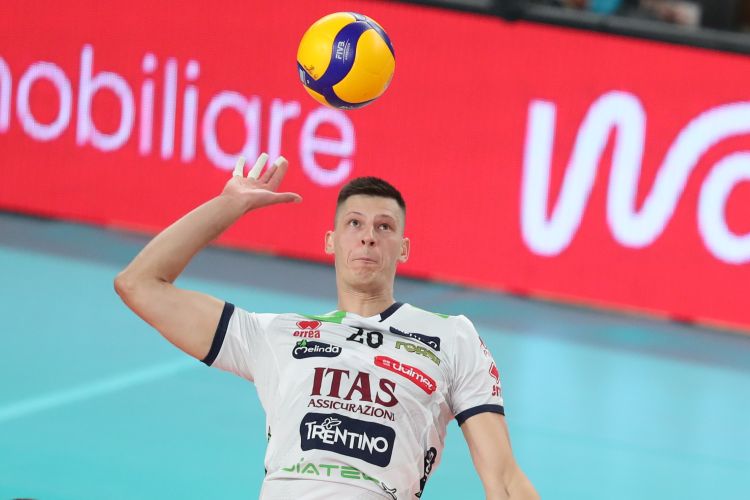 On Monday evening Srecko Lisinac was the protagonist of "RTTR Volley" for the first time. After deliberately waiting two seasons before being a guest in the studio, a time he took advantage of in order to learn to express himself in a fluent and effective Italian, the Serbian middle-blocker told us about himself and his thoughts on the match played on Sunday, during the weekly broadcast that the partner TV dedicates to Trentino Volley.
"It is always difficult to talk after a defeat but I am convinced that we played well on Sunday evening against Perugia," he explained. "We are training well and I think we have taken the right path to get to the top; against Sir Safety Conad we played a good match but it wasn't enough to win. We have made too many mistakes in important moments and in such a context you cannot afford it. In any case, the match proved that we can play at a high level and that we were prepared; we will start again from the good things done in the first set but also the second and fourth. Civitanova and Perugia are more experienced teams than ours also because they changed less in the summer; I'm sure we can get to that point with patience and a great desire to work. It is too early to look at the leaderboard but it is still important not to lose sight of the goal of remaining firmly in the top four. You learn more from defeats than from victories".
"In the gym, there is a good climate, the group is good, full of positive energy and I am convinced that we have everything we need to achieve great results - continued Liske - . It will be important to arrive prepared in the important moments of the season. My physical condition? I started training together with my teammates but the process that led me to the field again was longer than theirs, because it was studded with physical problems that I had to solve at the back and calf, and during summer I was positive for Coronavirus. But now I finally feel good. The week of training has just begun and will see us working hard to prepare for the match against Monza, which, like us, may have lost a few too many matches at the start of this championship. Anyway, we must not focus too much on what will happen in their half of the field but rather on what we will be able to express in ours".
Trentino Volley Srl
Press Office