Trento, 22 October 2020
SuperLega, Sunday, gialloblù team in Monza to confirm the positive streak against Brianza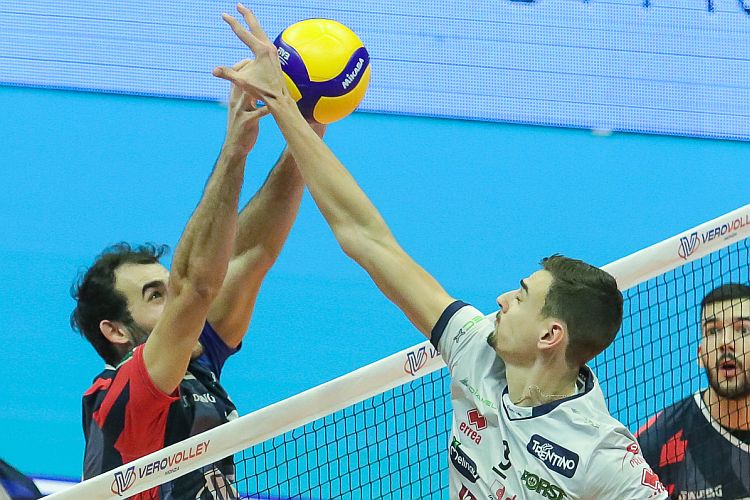 At the BLM Group Arena in Trento, the preparation of Itas Trentino for the next match of the championship continues. On Sunday 25 October, at 18, the gialloblù team will play at the Arena di Monza (Candy Arena) to compete against the hosts of Vero Volley Monza in the match valid for the seventh round of regular season SuperLega Credem Banca 2020/21. Lorenzetti's team will play the fourth away game of the championship (where so far it has won all the six points it has in the ranking), with the goal to make a comeback in its ranking, so as not to lose further ground from the top positions.
The statistics also come to the rescue of Giannelli and teammates, which are particularly favourable in comparison with Monza. In six official precedents with the Brianza Company, Trentino Volley has won fifteen matches, leaving the opponents only eleven of the fifty-eight played sets overall.
The only success of Vero Volley is the home match of 4 March 2018, ended at the tie break; in all the other cases the Club of via Trener has always won: nine times by 3-0 (including the last match – 16 January 2020, in Monza), four times by 3-1 and two times at the tie break.
The absolute record for the duration of a Trentino Volley match is associated with a game with Monza; the longest match played in the Company history corresponds to the game won at the tie break in the Brianza building on 23 December 2018: 165 minutes, with partials of 25-22, 20-25, 25-21, 36-38, 8-15, and fourth set lasted 57 minutes (another record).
Among the ranks of the opponents there are also two players who grew up in the gialloblù Youth Sector: the middle-blocker Gianluca Galassi and the spiker Filippo Lanza, who among the two was always the only one to play matches in the first team (300, of which half as captain).
Trentino Volley Srl
Press Office