Monza, 25 October 2020
SuperLega, Itas Trentino suffers an incredible loss at the tie break against Monza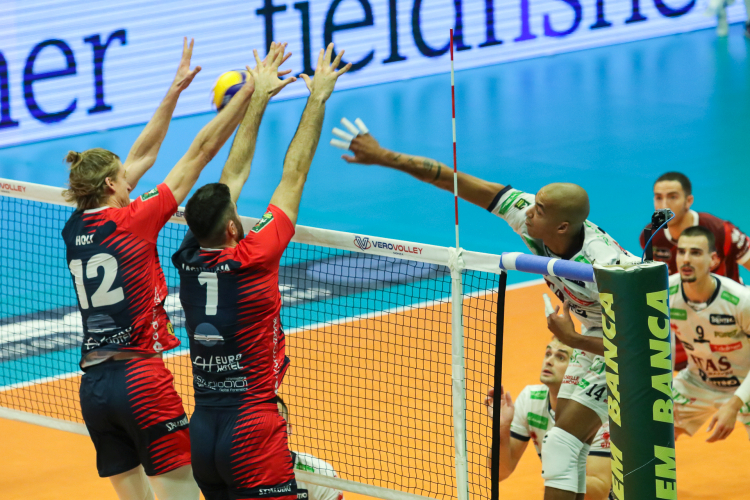 The Arena di Monza rejects the attempted assault of Itas Trentino. Losing by 2-3 against the hosts of Vero Volley, tonight the gialloblù formation had to deal with the fourth loss in regular season SuperLega Credem Banca, leaving, for now, the play off zone (in favour of Brianza) at the end of an exciting match, full of recriminations.
After a difficult start, Gianelli and teammates were good at reacting and, guided by the great Nimir (32 points with 66% in attack, a block and six aces), succeeded to overturn the result, moving forward at 2-1. Later, Lorenzetti's team failed to win, ceding the fourth set to the hosts and losing at the tie break as well, which were able to lead up until 8-6 in their favour.
Itas Trentino will stay until Monday afternoon in Brianza, before continuing its journey to Switzerland, where between Wednesday and Thursday will play against Dinamo Mosca and Lindaren Volley in Amriswil for the second and last preliminary round of 2021 CEV Champions League.
Here is the report of the match for day number 7 of regular season SuperLega Credem Banca 2020/21, played tonight at the Arena di Monza.
Vero Volley Monza-Itas Trentino 3-2
(25-21, 21-25, 19-25, 25-16, 15-13)
VERO VOLLEY: Lanza 9, Holt 11, Lagumdzija 23, Dzavoronok 17, Galassi 4, Orduna 2, Brunetti (L); Beretta 2, Sedlacek 10. N.e. Falgari, Calligaro, Federici, Ramirez Pita. All. Massimo Eccheli.
ITAS TRENTINO: Lucarelli 10, Lisinac 4, Abdel-Aziz 32, Kooy 12, Podrascanin 8, Giannelli 3, Rossini (L); De Angelis, Sosa Sierra, Sperotto, Cortesia e Argenta. All. Angelo Lorenzetti.
REFEREES: Braico from Turin and Zavater from Rome.
SET DURATION: 28', 28', 29', 25', 21'; tot 2h and 11'.
NOTES: 192 spectators, no proceeds communicated. Vero Volley: 11 blocks, 9 aces, 22 errors at serve, 8 errors at action, 56% in attack, 37% (14%) in reception. Itas Trentino: 8 blocks, 7 aces, 22 errors at serve, 4 errors at action, 55% in attack, 45% (19%) in reception. MVP Sedlacek.
Trentino Volley Srl
Press Office