Amriswil (Switzerland), 26 October 2020
Champions League, the giallo-blù team is already in Switzerland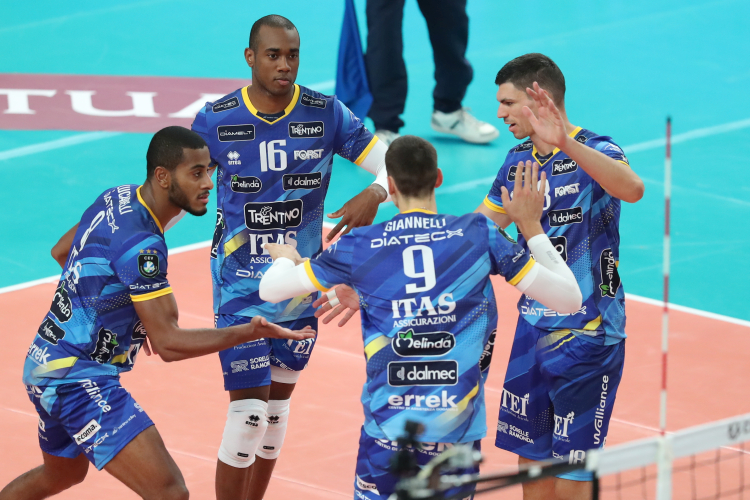 It took more than five and a half hours of travel, also marked by the heavy snowfall encountered immediately after the San Bernardino pass, to Trentino Itas to complete the transfer from Monza to Amriswil, the Swiss town where it will return to the field on Wednesday last preliminary round of 2021 CEV Champions League.
After the morning spent in Brianza and also characterized by a training session at the weight room of the Monza Arena (kindly granted for the occasion by Vero Volley), the giallo-blù team left in the afternoon for Switzerland by bus, arriving at the destination in the evening. This is the third away match ever for Trentino Volley in this country; the two previous ones both relate to the 2018/19 season: November 21 in Lausanne, January 30 in Amriswil.
Starting from Tuesday, the team coached by Angelo Lorenzetti will prepare the delicate match against Dinamo Moscow, scheduled for October 28th at 7 pm at the TellenfeldSporthalle. It will be the second match of Pool H, which will open as early as October 27 with the match between the Russians and the hosts of Lindaren Volley. In order to qualify for the MainPhase, Trentino Volley will have to win both matches (the second is scheduled for Thursday 29 October with the Swiss), which will be broadcast live on Radio Dolomiti and Eurovolley.tv (paid service).
In the early afternoon of Tuesday, Giannelli and his teammates will begin to take the first points of reference in the facility, sustaining an hour and a half training, right on the competition field.
Trentino Volley Srl
Press Office