Amriswil (Switzerland), 28 October 2020
Champions League, Trentino Itas gets back on track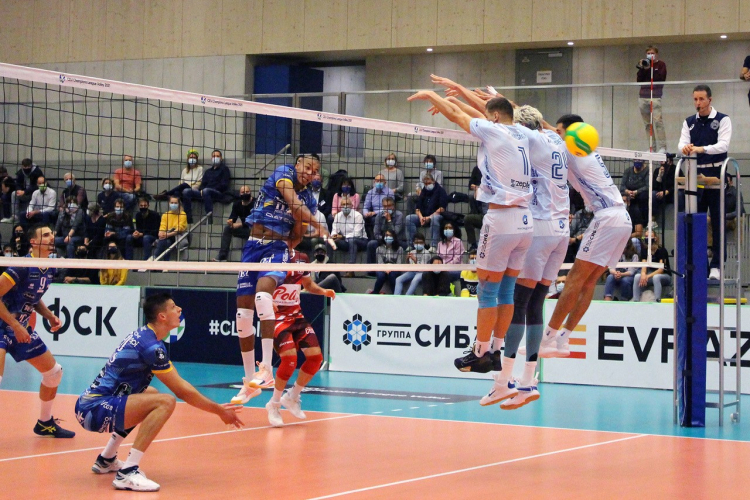 At the most difficult time, Trentino Itas gets back on track and displays the best performance of the season. Tonight, in Switzerland, the gialloblù team has deleted the two consecutive losses recently suffered in SuperLega, winning against Dinamo Mosca in the first of the two matches to be played in Amriswil to qualify at the Main Phase of 2021 CEV Champions League.
The goal is surely coming close thanks to the 3-0 against the Russians, but to reach it Lorenzetti's team will need to win also the match against the hosts of Lindaren Volley on Thursday. The first fundamental step towards Pool E (which includes already Novosibirsk, Friedrichshafen and Karlovarsko) was accomplished, winning against the opponents, since the start without Sokolov (not even in the report). Giannelli and teammates were great to focus on their play, using since the beginning a very aggressive volleyball in all the fundamentals and never letting Dinamo counter. The Russians suffered the pressure of the gialloblù team, thanks to a formidable Nimir (22 points, with 3 blocks, 4 aces and 68% in attack: MVP of the match), a great Kooy (12 with 57%, one block and three aces), but also thanks to Lucarelli, who was useful during all the fundamentals, wisely incited by Giannelli.
"We're happy about the match played tonight, obviously we need to complete the goal and hope to keep playing like that during the second match against the Swiss team on Thursday" commented the coach of Trentino Itas Angelo Lorenzetti at the end of the match.
Trentino Itas will come back to the field in Amriswil already on Thursday 29 October at 19 to play against the hosts of Lindaren Volley in the match valid for the first place in Pool H of the second preliminary round of 2021 CEV Champions League and to qualify at the Main Phase. Live broadcast on Radio Dolomiti and Eurovolley.tv.
Here is the report of the second match of Pool H of the second preliminary round of 2021 CEV Champions League, played tonight at the Tellenfeld Sporthalle in Amriswil (Switzerland).
Dinamo Mosca-Trentino Itas 0-3
(18-25, 13-25, 16-25)
DINAMO MOSCA: Deroo 8, Likhoshertov 4, Shkulyavichus 12, Podlesnykh 4, Vlasov 1, Pankov 2, Kerminen (L); Sventitskis 1, Baranov (L), Semyshev. N.e. Sieemschikov, Belogortsev, Dmitriev. All. Konstantin Brianskii.
TRENTINO ITAS: Lucarelli 5, Lisinac 4, Abdel-Aziz 22, Kooy 12, Podrascanin 4, Giannelli 6, Rossini (L); De Angelis. N.e. Cortesia, Argenta, Sperotto, Sosa Sierra. All. Angelo Lorenzetti.
REFEREES: Sikanjic from Vaduz (Liechtenstein) and Halasz from Budapest (Hungary).
SET DURATION: 24', 22', 21; tot 1h and 7'.
NOTES: 452 specators. Dinamo Mosca: 2 blocks, 2 aces, 9 errors at serve, 11 errors at action, 44% in attack, 32% (26%) in reception. Trentino Itas: 8 blocks, 9 aces, 13 errors at serve, 1 error at action, 62% in attack, 31% (28%) in reception. MVP Nimir.
Trentino Volley Srl
Press Office