Amriswil (Switzerland), 29 October 2020
Mission accomplished in Switzerland: Trento qualified to the main phase of Champions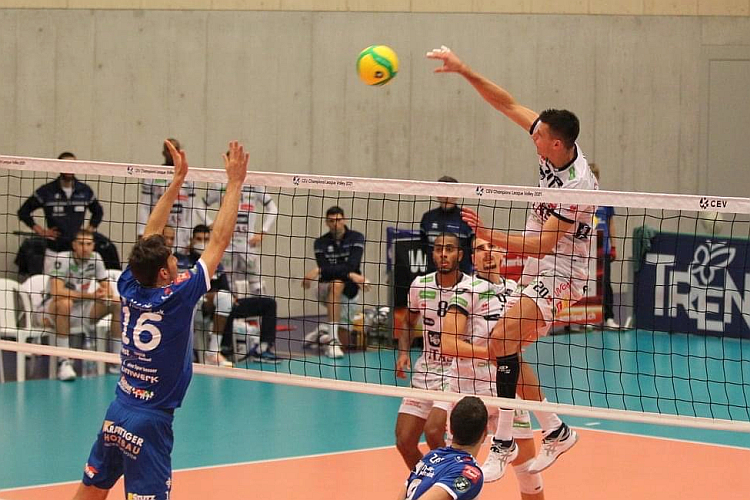 Mission accomplished in Switzerland for Trentino Itas. After having started the work splendidly on Wednesday evening, thanks to the 3-0 against Dinamo Moscow, the giallo-blù team overcame the hosts of Lindaren Volley Amriswil in three sets in the third and last match of the second preliminary phase of 2021 CEV Champions League.
By virtue of the first place achieved in Pool H, Giannelli and his team-mates have therefore effectively obtained the qualification for the Main Phase of the greatest continental tournament, in which 4 italian teams will participate. Trentino Volley will therefore be at the starting line of the group stage for the tenth time in its history, completing Pool E which also includes the Russians of Novosibirsk, the Czechs of Karlovarsko and the Germans of Friedrichshafen. The calendar would include the debut as early as mid-November in Siberia but in all probability the CEV will have to redesign the formula and development of the matches, defining everything within a few days.
To obtain the pass it would have been enough to win just one set; having conquered the mathematical certainty of the passage of the round already in the opening partial, conducted with authority and personality, Lorenzetti's team did not, however, hold back, also collecting the following ones, obtained by also rotating the squad. Amriswil never managed to keep up with the Trentino Volley's pace, led by the pair of spikers Lucarelli-Kooy (11 points each with excellent attack percentages) and then also by Argenta and Sosa Sierra in the final part: 6 winning balls each, with the Cuban who scored 100% in attack.
Below is the scoreboard of the third and final Pool H match of the second preliminary round of 2021 CEV Champions League played tonight at the Tellenfeld Sporthalle in Amriswil (Switzerland).

Lindaren Volley Amriswil-Trentino Itas 0-3
(19-25, 22-25, 18-25)
LINDAREN VOLLEY: Buivids 3, Stevanovic 1, Zass 11, Zeller 1, Escher 10, Filippov, (L); Diem (L), Hoene 4, Maag 2, Jucker. N.e. Muller, Messerlj, Lengweiler, Wesigk. All. Marko Klok.
TRENTINO ITAS: Lucarelli 11, Lisinac 7, Abdel-Aziz 1, Kooy 11, Podrascanin 2, Giannelli 5, Rossini (L); Argenta 6, Cortesia 3, Sperotto, Sosa Sierra 6, De Angelis. All. Angelo Lorenzetti.
REFEREES: Halasz from Budapest (Hungary) and Fernandez Fuentes from Barcellona (Spain).
SET DURATION: 22', 25', 23'; tot 1h and 10'.
NOTES: 50 spectators. Lindaren Volley: 3 blocks, 3 aces, 14 service errors, 6 action errors, 51% in attack, 43% (34%) in reception. Trentino Itas: 7 blocks, 5 aces, 21 service errors, 3 action errors, 66% in attack, 52% (37%) in reception. Mvp Giannelli.
Trentino Volley Srl
Press Office