Amriswil (Switzerland), 29 October 2020
Lindaren Volley-Trentino Itas 0-3, the match report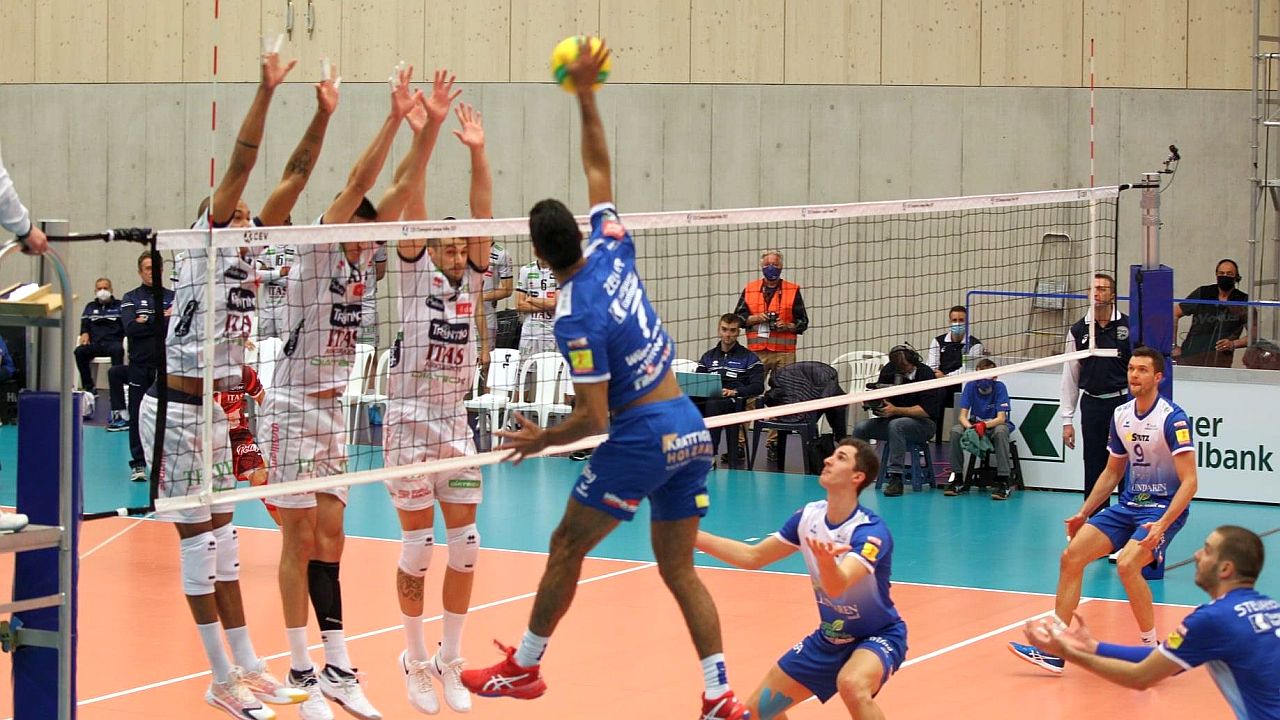 The match report. The reading of the starting lines does not offer substantial news; Trentino Itas starts with the sextet that overcame Dinamo Mosca in three sets twenty-four hours earlier: Giannelli as setter, Nimir Abdel-Aziz opposite spiker, Lucarelli and Kooy spikers, Lisinac and Podrascanin in the center, Rossini libero. Lindaren Volley Amriswil responds with Filippov as setter, Zass opposite spiker, Buivids and Zeller spikers, Stevanovic and Escher middle-blockers, Mueller libero. The start of the match immediately clarifies the intentions of Trentino Volley; right away the giallo-blù team sprints at 5-1 thanks to the opponents' mistakes and the pressure exerted on the service and on the block. Zass tries to encourage his team (6-4), but the rotation that sees Kooy go to the service again digs a deep groove between the two teams (11-6). In the second part of the partial Trento keeps the advantage without particular problems (14-8, 20-16) with Lucarelli and Kooy very effective in attack and quickly archives the qualification matter closing the set on 25-19.
In the second set Lorenzetti confirms Argenta on the field (who already entered the field in place of Nimir in the final of the previous one) and also offers space to Cortesia, which takes over Podrascanin. The giallo-blù players in this case struggle to shake off the opponent (4-4), then Giannelli traces the furrow with the service and the first intention attack (10-6), but this time the Swiss do not give up and within few actions are close (15-13, 17-16), taking advantage of the good time at the net by Zass and Hoene. The guests sensed the danger and started off again with Kooy's ace (21-19) and then with Zeller's error in attack, which allowed the partial to be concluded at 25-22.
In the third set there is room for Sosa Sierra (for Kooy); the Cuban is among the protagonists of the immediate giallo-blù draw (5-1); Trento's advantage increases (10-5, 14-7), taking advantage of the boost of Argenta and Lucarelli. Lorenzetti's team is in a hurry to close and the Brazilian proves it by often scoring in place 4 (20-13). The final 3-0 arrives with Sperotto on the field for Giannelli in the closing stages.
Trentino Volley Srl
Press Office