Cisterna di Latina (Latina), 01 November 2020
Top Volley Cisterna-Itas Trentino 1-3, the match report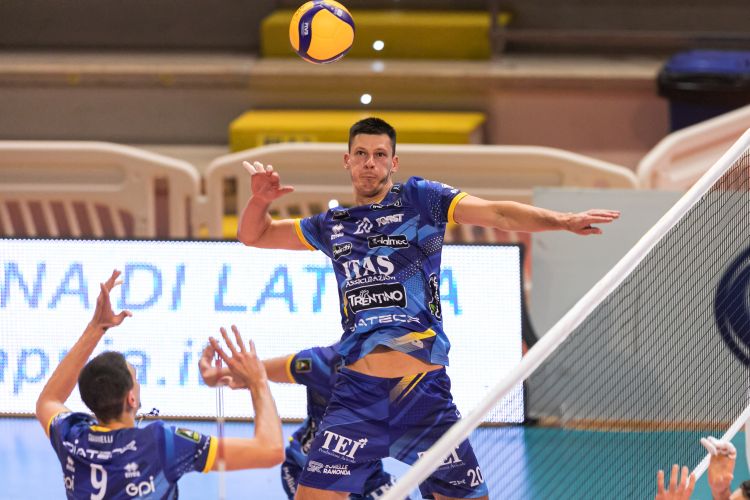 The match report. Itas Trentino takes the field in Latina without any variation of the usual starting six: Giannelli at serve, Nimir as opposite spiker, Kooy and Lucarelli as spikers, Podrascanin and Lisinac as middle blockers, Rossini as libero. Top Volley answers with Seganov at serve, Szwarc as opposite spiker, Randazzo and Tillie in place 4, Rossi and Krick as middle blockers, Cavaccini as libero. The beginning of the match is all in favour of Nimir, who scores already three consecutive aces (3-0), then Lucarelli defends the important advantage with a block on Szwarc (6-3). Later, the match offers a long sequence of side-outs (9-6, 10-7), before Giannelli blocks Randazzo and brings four advantages to the opponents (13-9). During the second part of the set, Itas Trentino succeeds in defending what it has previously earned and then keeps scoring (+6, 20-14) thanks to Lucarelli. The set ends with +8 in correspondence with 25-17, with a mistake of Randazzo and another ace of Giannelli.
The start of the second period is more balanced, in which Cisterna tries to counter every blow until 5-5, before leaving room to the gialloblù team due to the attacks of Nimir and Podrascanin (11-8 and then 13-9). Top Volley doesn't give up and with Randazzo and Tillie makes a comeback (16-15, time out of Lorenzetti); Trento sees the danger and restarts with Lisinac, who makes his presence worth in the centre of the net (20-17); Giannelli uses again Nimir and the 2-0 already arrives at 25-20.
With Cavuto as opposite spiker and Szwarc again as middle blocker, the hosts start great in the third period (2-4), trying to turn the situation around. On 3-6, counterattack of Randazzo, Lorenzetti interrupts the game, but at the restart the advantage becomes even more consistent (5-10, 8-14), also because the gialloblù attackers are being blocked by the opponents. In its most difficult moment, Itas Trentino recovers its determination thanks to the serve, this time of Podrascanin, who with two aces reduce the gap until 13-16, then Lucarelli scores the minus two (16-18). Cisterna sees the danger and uses Cavuto and Szwarc to comeback (18-22 and then 22-25), after Trento succeed to get back on top until 22-24.
Itas Trentino starts with enthusiasm during the fourth set, taking the lead thanks to Kooy (3-1 and 5-2); the gialloblù don't succeed in defending the advantage and slowly the opponents make a comeback (8-7), which got even on 13 due to an error of Nimir. Then Cisterna uses greatly Cavuto (16-19); Trento is unsteady (18-22), but it catches up (22-22) with the serves of Lucarelli. At the advantages, it's decisive a great block of Podrascanin and a counterattack of Kooy: 26-24 and 3-1.
Trentino Volley Srl
Press Office