Trento, 12 November 2020
Towards Sunday's derby with Milan, Nimir: "Important points at stake"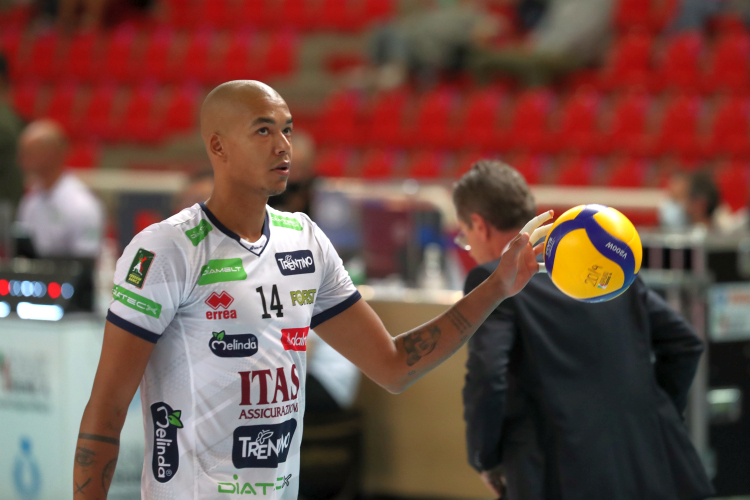 The long wait is about to end; after a two-week break, Itas Trentino is preparing to return to the field in the upcoming weekend to play again a SuperLega Credem Banca match. The opportunity will be provided by the match that will be played at the BLM Group Arena on Sunday 15 November at 4 pm against Allianz Milano for the tenth round of the regular season. At the important appointment, the giallo-blù team will arrive without the spikers Kooy, Sosa Sierra and the libero Rossini (all in quarantine due to positivity to Covid-19) but with the recovery of Alessandro Michieletto: he returned to work with the group as early as Monday evening.
"In the last few days we have worked well despite having to deal with the absences of three important players such as Dick, Luis and Totò, - explained Dutch opposite spiker Nimir Abdel-Aziz - We know that without them it can't be the same, but those in the gym are giving their all and are happy to be able to do so, especially after having lived part of the previous week in fiduciary isolation. After all, we only lost a couple of days of work, but the enthusiasm will allow us to catch up. We need to be confident and better prepare for the match with whoever is available. It was nice to see Michieletto in action; he lost a whole month but he is young and his desire to restart immediately is making him burn the stages of physical and technical recovery. On Sunday he will have to play as a starter but I am sure that it will not weigh on him, on the contrary: it is the best way to resume the conversation interrupted with our team at the end of September".
"It is obvious that the challenge against Milan is very special for me, because on Sunday for the first time I will face as an opponent the team that launched me in the Italian championship as opposite spiker and in which I lived three seasons full of meaning - continued Nimir - . Powervolley with me had made a good bet and if today I play in a prestigious club like Trentino Volley it is certainly thanks to those who took this risk in 2017. I am grateful and I will be pleased to see many people that I still often hear from; all these feelings, however, will inevitably be put aside during the match, because there are important points at stake, regardless of our position in the standings and that of our opponents. If we want to get back on top we have to score points against anyone and every opportunity must be valid to move the ranking. A wonderful match awaits us".
After the double session held today, before the match against Allianz Milano, Itas Trentino will carry out a training session on Friday afternoon and one on Saturday.
Trentino Volley Srl
Press Office