Berlin (Germany), 25 February 2021
Berlin Recycling Volleys-Trentino Itas 1-3, the match report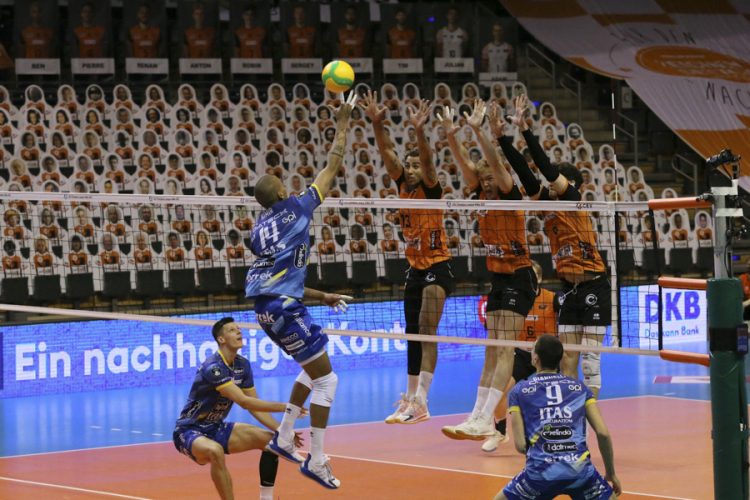 The match report. The Trentino Itas chosen by Angelo Lorenzetti for the occasion includes Giannelli as setter, Nimir Abdel-Aziz opposite spiker, Lucarelli and Kooy in 4th place, Lisinac and Podrascanin in the center, Rossini libero. The Berlin Recycling Volleys responds with Grankin as setter, Patch opposite spiker, Carle and Tuia spikers, Eder and Brehme middle-blockers, Zenger libero. At the start, the hosts started with two break points from the transalpine spikers (attack from Tuia and ace from Carle for 3-5); Trento, however, does not break up and at 4-6 makes a very heavy break of 9-0 (13-6) with Nimir's service, also with three direct aces from the Dutch opposite spiker. The German coach has already spent the two time outs available in the middle of the set, without being able to reverse the trend, so much so that the giallo-blù team still accelerate in the central part of the set (17-10 and 20-11), taking advantage of of Carle's mistakes, which is alternated with Kessel. The 1-0 away point arrives at 25-19, only because the guests in the final part loosen their grip a little (23-18), without losing sight of the result (25-19).
Berlin tries to react with Patch after the change of field (2-5) and with the help of Carle it goes up to +4 (6-10). Trentino Itas finds parity at 11 in just a few minutes thanks to Nimir and Lucarelli; in the central part the battle takes place blow by blow, (13-13, 17-17, 19-19), with the teams alternating in command, also making a few mistakes too many in service. Lucarelli's block on Carle guarantees +2 for Trento (21-19), Patch equalizes the score at 22-22 with an ace; then, at the sprint Michieletto's block (in the field from mid-set in place of Kooy) on the same American opposite spiker: 25-23 and 2-0.
In the third set Lorenzetti confirms Michieletto on the field and the fight lasts for a long time (6-6, 13-13), then Nimir thinks signs the +3 almost alone (16-13). It seems the decisive draw, but Berlin still has energy to even the score at 20 and then 24-23 with Patch. At the advantages Trentino Itas cancels three set balls but then gives in to the fourth, made by Carle (26-28).
In the fourth set Trentino Itas proves to have learned the lesson; the giallo-blù team starts better from the blocks thanks to Nimir (7-5) and progressively increase its advantage (14-10 and 21-14), without conceding anything. Nimir is unleashed in attack and also in serving and leads his team towards the 3-1 final, well supported by the blocks of Michieletto on Patch: 25-17 with Sosa Sierra on the field in the final exchanges.
Trentino Volley Srl
Press Office