Trento, 26 February 2021
Statistics, in Berlin Itas played the 100th match in Champions and Lisinac got 1000 points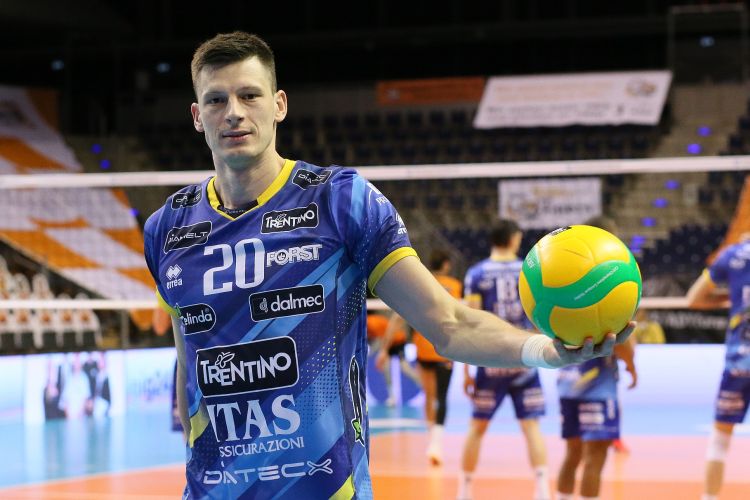 Here are some notes and statistics after the first round of the quarter final of 2021 CEV Champions League, won by Trentino Itas 3-1 in Berlin.
IN BERLIN, 100TH MATCH IN CHAMPIONS LEAGUE. Right in Berlin, Itas played its 100th match in Champions League. Gialloblù team won 80 matches out of 100 in the most important European trophy. Indeed, the team played 12 matches in 2009, 12 in 2010, 8 in 2011, 12 in 2012, 8 in 2013, 10 in 2014, 12 in 2016, 10 in 2018, 6 in 2020 and 10 in this season. 80% of victories was reached thanks to 39 victories on home filed and 41 on away field, 48 times 3-0, 24 times 3-1 and 8 times 3-2.
FIRST VICTORY IN GERMANY AGAINST A GERMAN TEAM. Finally, gilloblù team managed to dispel a myth about the matches played against German teams. Indeed, until last Thursday Itas had always been defeated by German teams: 2-3 on 12th January 2011 in Friedrichshafen against VfB, 0-3 against Berlin on 18th October 2013. The only matches won in Germany were the ones in Friedrichshafen, on 9th and 10th February 2021 against the Russian Novosibirsk (victory 3-0) and against Karlovarsko (3-1), then the team didn't managed to win against the German team (that had to stop due to Covid-19).
LISINAC SCORED MORE THAN 1000 POINTS. Thanks to the 12 points scored on Thursday in Berlin, Srecko Lisinac has scored more than 1000 points during official matches, playing with Trentino Volley skirt. He played 106 matches and 1005 points, on average 9,4 points per match. Lisinac scored 398 points during season 2018/19, 351 during 2019/20, 256 in 2020/21; he's the second player in his role who achieved a 4-digit number in the sotroy of trentino Volley. Before him, aziyski (4.945), Lanza (2.877), Juantorena (2.662), Birarelli (2.539), Stokr (2.536), Solé (1.681), Kovacevic (1.518), Vettori (1.463), Sokolov (1.425), Djuric (1.401), Vissotto (1.362), Sartoretti (1.209), Winiarski (1.191), Giombini (1.116), Nascimento (1.062) and Giannelli (1.059).
NIMIR ÜBER ALLES. Also in this occasion, Nimir Abdel-Aziz showed his great abilities and his contribution was particularly important not only for the result of the match but also for the statistics. He scored 28 points, the second highest number for a gialloblù player while playing in European Cup for Trentino Volley. Only Matey Kaziyski managed to do even better scoring 30 points in Olympiacos Piraeus-Trentino BetClic 2-3 on 2nd December 2009.
Trentino Volley Srl
Press Office