Trento, 07 April 2021
Play Off, Lube wins match 4 3-0 at the BLM Group Arena and earns the pass for the Final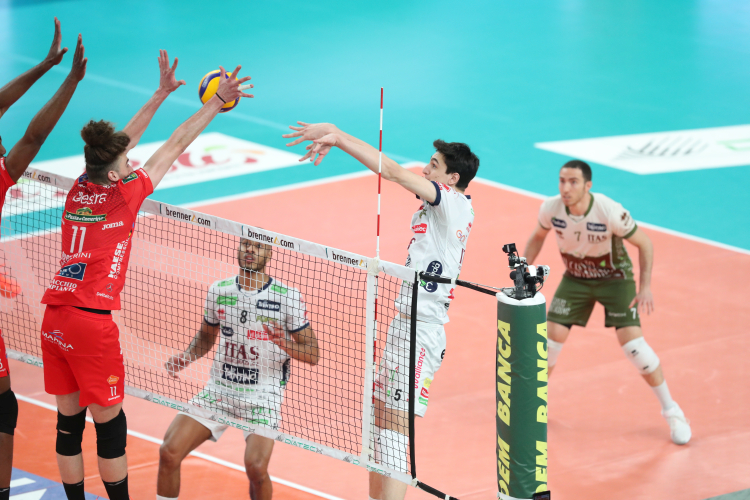 The Itas Trentino Scudetto race ends at match 4 of the Play Off Semifinal. By yielding again tonight for 0-3 at the BLM Group Arena semifinal match 4 against Cucine Lube Civitanova, the giallo-blù team has in fact had to definitively give way to the opponents, ending here its path in the Italian SuperLega championship, but not the seasonal one, which will still reserve the most important appointment of all: the 2021 CEV Champions League Final on May 1st in Verona against the Poles of Kedzierzyn-Kozle.
To the challenge that will assign the title of European Champion 2021, Trentino Volley will arrive with a long period of preparation (more than three weeks without official matches), but taking advantage of the many indications obtained during the series of matches just ended against the Marche region. Today's result sealed the duel and it was a hard hit for Giannelli and his teammates, which also on this occasion, as happened in all the previous ones, showed the ability to fight for long stretches evenly against the red and white team. Cucine Lube was good at putting great pressure on the opponents right from the start of the match; while skidding, Itas Trentino nevertheless remained on track and, after losing the first set 19-25, responded point by point in the following ones, surrendering only to the sprint with a double 23-25. Lucarelli (12 points with 62% in attack and two blocks), Lisinac (4 winning blocks) and Michieletto (started from the bench but protagonist of an excellent entry from the first set) were the last to give up on an evening when the opponent's block was able to contain Nimir's flare-ups in attack.
Below is match 4 scoreboard of the Semifinal Play Off Scudetto SuperLega Credem Banca 2021 played tonight at the BLM Group Arena in Trento.
Itas Trentino-Cucine Lube Civitanova 0-3
(19-25, 23-25, 23-25)
ITAS TRENTINO: Giannelli 1, Lucarelli 12, Lisinac 9, Nimir 11,Kooy 2, Podrascanin 4, Rossini (L); Michieletto 9, Sosa Sierra, Sperotto, Argenta. N.e. Cortesia, Bristot, De Angelis. Coach Angelo Lorenzetti.
CUCINE LUBE: Anzani 3, De Cecco 1, Juantorena 15, Simon 17, Rychlicki 12, Leal 2, Balaso (L);Kovar, Marchisio, Yant 4, Diamantini. N.e. Falaschi, Larizza, Hadrava. Coach Gianlorenzo Blengini.
REFEREES: Boris from Vigevano (Pavia) and Puecher from Rubano (Padova).
SET DURATION: 31', 30', 34'; tot 1h and 28'.
NOTES: game played behind closed doors. Itas Trentino: 8 blocks, 4 aces, 13 serving errors, 7 action errors, 49% in attack, 51% (33%) in reception. Cucine Lube: 9 blocks, 7 aces, 12 service errors, 3 action errors, 54% in attack, 37% (13%) in reception. MVP Juantorena.
Trentino Volley Srl
Press Office