Verona, 30 April 2021
On Saturday in Verona final match of CEV Champions League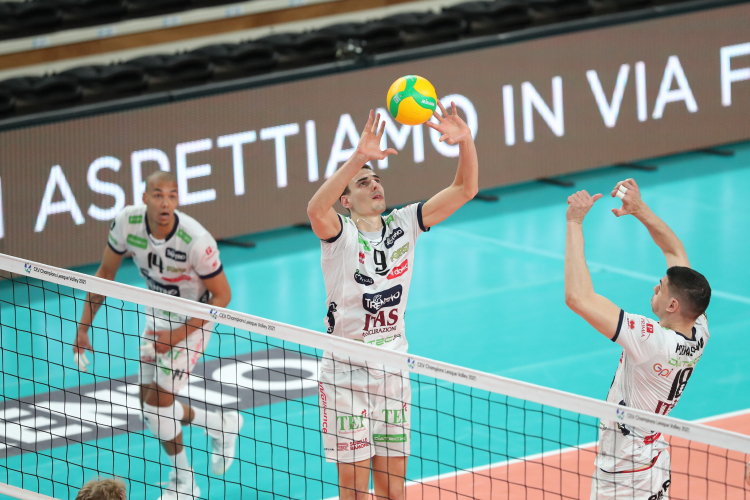 The final match of 2021 CEV Champions League is scheduled on Saturday 1st May at AGSM Forum. The match will assign the yearly title of European Champion per Club and it will be between Trentino Itas and the Polish Groupa Azoty Kedzierzyn-Kozle. Starting whistle schedule for 8.30 pm, live on RAI Sport +, Sky Sport Uno, Radio Dolomiti and on www.eurovolley.tv.
HERE TRENTINO ITAS After having waited for 24 days, gialloblù team is now rady to go back on field for last and the most important match of season 2020/21. Giannelli and his fellow players arrived in Verona on Thursday afternoon, after 3 whole weeks of training, without any official match. During these weeks the whole team committed for several hours in hard trainings in order to be ready for the occasion, both physically and mentally.
For this special occasion Angelo Lorenzetti will count on 14 players; in addition to the usual 13 of the team, there will also be the young hitter spiker Alberto Pol, who will play as second libero, allowing the coach to line up De Angelis as 5th hitter spiker, whose action could be very important in second line. Trentino Itas will improve the final preparation for the match training tonight and on Saturday morning at 'AGSM Forum, where it has been training since Thursday night. Five players have already played one or more European final matches per club: they are De Angelis, Nimir, Podrascanin, Giannelli e Lisinac, these two last won 2019 CEV Cup with gialloblù team.
8TH EUROPEAN FINAL MATCH, NUMBER 35 EVER FOR THE CLUB For Trentino Volley this match will be number the 8th European Final match of its story and the 13th international match of last 12 years. It will be 35th match ever; we also eant to recall last 22 matches played on national field: 3 matches against Piacenza during playoff scudetto 2008, 2009 and 2013 ( best out of 3 matches and out of 5 matches), 6 matches against Cuneo (Coppa Italia 2010 and 2011, V-Day 2010 and 2011, Supercoppa Italiana 2010 and 2011), 7 matches against Macerata (V-Day 2012, Play Off 2017, Coppa Italia 2012 and 2017, Supercoppa Italiana 2008, 2012 and 2013) and 5 matches against Modena (Coppa Italia 2015 and 2016, final of scudetto 2015, finale of Supercoppa Italiana 2015 and 2018). In general, gialloblù won 18 times a title, out of 34 matche splayed: in addition, up to now, Trentino Volley won 9 out of 12 international final matches played. Indeed, among the result there are Champions League (2009, 2010 and 2011), then 5 final matches of World Championship per Club, first 4 played in Doha against Belchatow (3-0 on 8th Novemeber 2009 and 3-1 on 21st December 2010), Jastrzebski (3-1, on 14th October 2011) and Cruzeiro (on 19th October 2012, 3-0) and the one in Czestochowa (on 2nd December 2018) against Civitanova in addition to the one of CEV Cup (won in Istanbul on 27th March 2019), the most recent one.
THE NUMBERS IN CHAMPIONS LEAGUE OF TRENTINO VOLLEY On Saturday night Trentino Volley will play match number 104 ever in Champions League, ending up its 10th participation to the main continental trophy per club. In complex, the team collected 82 victories and 21 defeats, last one was on 28th March in Perugia (the only defeat during this edition, during which achieved 3 victories). On away field it won 41 matches out of the 56 played. The player who played the most with gialloblù skirt during this competition is Biradelli (47 times), while Giannelli (41) is the one of the actual line up ho has played the most. In Champions League, Itas has played against 5 different Polish teams : Kedzierzyn-Kozle (8), Belchatow (4), Czestochowa (2), Jastrzebski (2) and Rzesow (2).
OPPONENT TEAM Groupa Azoty Kedzierzyn-Kozle, known as Zaksa, is about to play the most important match of its story, indeed before it had never achieved to pass the semi-final of Champions League. For years it has been being one of the best Polish volleyball teams (the nation has never achieved a victory in this tournament), and it played 8 scudetti e 8 Coppe Nazionali (the most recent one won a couple of months ago), in addition to many good result at European level. The most important success was the one achieved in 2010/11, when it arrived very close to the victory of CEV Cup, but lost the golden set during the double final match against Sisley Treviso. While in Champions League the best result since its fondation in 1947, was a 3rd place achieved in the Final Four 2003, played at Forum of Assago in Milan.
Among the line-up, guided by Nikola Grbic (great director and Capitan of the first 2 victories of Trentino Volley: Scudetto 2008 and Champions 2009) there are many famous names of players: the French setter Toniutti, il American middle-blockers Smith (once Resovia and Tours), the libero Champion of the World 2014 with Polonia Zatorski and the middle-blocker Kochanowski. The best players are the 3 attackers, all 3 are Polish: hitter spikers Sliwka and Semeniuk and the opposite Kaczmarek; just having a look to the results confirms the abilities. In their homeland, the season ended up in a sad way, given that the team had been overcome by Jastrzebski 0-2 in a match everyone expected the other team to win (as it had happened during the previous regular season). Groupa Azoty Kedzierzyn-Kozle's line-up: 1. Pawel Zatorski (l), 2. Lukasz Kaczmarek (o), 3. Jakub Kochanowski (c), 4. Krzysztof Rejno (c), 6. Benjamin Toniutti (p), 7. Piotr Lukasik (s), 8. Adrian Staszewski (s), 9. Bartlomiej Kluth (o), 11. Aleksander Sliwka (s), 13. Kamil Semeniuk (s), 15. David Smith (c), 16. Dominik Depowski (s), 17. Rafal Prokopczuk (p), 71. Korneliusz Banach (l). Allenatore Nikola Grbic.
THE FORMULA the title of 2021 CEV Champions will be assigned in just one match. Since edition 2019, the new is the elimination of the Final Four in favour of only day of match, in which will be played male and female matches. So, at 5 pm will be played the match Conegliano against Istanbul, after which will be assigned the title to the winner femalle team.
PREVIOUS MATCHES the teams have already played many marches together in European Cups, indeed Zaksa is the second foreign team for number of matches played (already 8), the first one is Dinamo Mosca (9). Previus matches were played in 2012, 2013 and 2018 in Champions League and during semi-final of CEV Cup 2015, as Nimir and Kooy still used to play with the opponent team. Gialloblù won 5-3 matches, but it lost both times at tie breaks during last 2 matches, played on 2oth December 2017 in poland and on 14th February 2018 at BLM Group Arena. This last match was also the one of longest duration ever for gialloblù in Champions League: 139 minutes.
REFEREES the match will be directed by the Greek Epaminondas Gerothodoros and the Serbian Vladimir Simonovic. Only Gerothodoros (who lives in Athens) has already directed 3 matches with Trentino Volley: Trento-Czestochowa 3-0 on 11th March 2009, Trento-Tours 3-0 on 5th December 2012 and Civitanova-Trento 3-0 on 26th January 2020. In addition he was also one of the 8 referees who directed the Final Four 2011 in Bolzano, won by Itas; he directed the match for the 3rd place Moscow-Jastrzebski 3-1. He has also directed the Final match of 2018 (won by Kazan per 3-2 against Lube). For Simonovic, who lives in Belgrade, this will be the first match. In the past he has directed the Final match of 2017 (won by Kazan in Rome 3-0 against Perugia) and the Finals for 3rd place (Berlino-Belchatow 3-2) and in 2015 in Berlino and in 2014 (Jastrzebski-Kazan 3-1) in Ankara.
TV, RADIO ED INTERNET The event will be very important at a worldwide level, for this reason it will be broadcast on any media. On TV it will be broadcast live on RAI Sport +, on channel 58 and commented by Maurizio Colantoni Andrea Lucchetta and Fabio Vullo. It will be possible to watch it in streaming at www.raisport.rai.it/dl/raisport/multimedia/diretta.html. Or on TV live on Sky Sport Uno, also visible on the on-line platforms Sky or on any device thanks to the app "SkyGo" (paying service). Commented by Stefano Locatelli and Andrea Zorzi.
It will also be broadcast on Radio Dolomiti, media partner of Trentino Volley, starting from 8.30 pm. Radio frequencies can be found on the website www.radiodolomiti.com, there it will also be possible to listen to the chronicle live.
It will be possible to watch the match streaming on "EuroVolleyTv"www.eurovolley.tv - paying service. Further information www.eurovolley.tv/en-int/page/pricing-and-faq.
On Internet, the updates point to point on CEV website (https://cevlive.cev.eu/DV_LiveScore.aspx?ID=40616), on www.trentinovolley.it and on social media of Itas.
Trentino Volley Srl
Press Office