Verona, 01 May 2021
2021 Champions League to Kedzierzyn-Kozle, Trentino Itas fights but surrenders for 1-3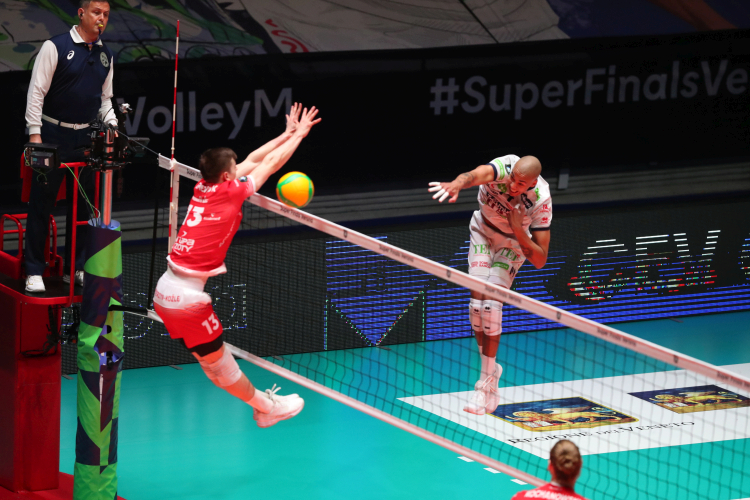 The dream to write for the fourth time the name of Trentino Itas in the hall of fame of CEV Champions League, the biggest international manifestation per Club, died out at the fourth set of the Final at the AGSM Forum in Verona. This evening, the gialloblù formation couldn't complete its continental run, which started already in late September with the first preliminary round of the competition, losing by 1-3 against Groupa Azoty Kedzierzyn-Kozle.
Grbic's team succeeded in winning for the first time the championship, winning the head-to-head match against the gialloblù formation, which was the protagonist of great starts in all sets, but only in the third partial actually managed to capitalize them. In the other three, the opponents were more cynical and efficient at the net and service, especially in the second half of every set, validating the final success. Between the ranks of Trentino Itas, the ideas of Nimir (best scorer of the match with 21 points, of which three blocks and one ace over 50% at the net) and some good moments of Lucarelli and Lisinac (the other two gialloblù players who close the match in double figures) weren't enough to reverse the trend and drag the match at the tie break; a hope that vanishes at the advantages in the fourth partial.
Here is the match report of the Final of 2021 CEV Champions League, played this evening at the AGSM Forum in Verona.
Trentino Itas-Groupa Azoty Kedzierzyn-Kozle 1-3
(22-25, 22-25, 25-20, 26-28)
TRENTINO ITAS: Podrascanin 9, Nimir 21, Kooy 6, Lisinac 11, Giannelli 2, Lucarelli 13, Rossini (L); Michieletto 5, Argenta, Sperotto, Sosa Sierra, De Angelis. Did not play. Pol and Cortesia. Coach. Angelo Lorenzetti.
GROUPA AZOTY: Sliwka 18, Kochanowski 7, Kaczmarek 15, Semeniuk 15, Smith 9, Toniutti, Zatorski (L); Kluth. Did not play. Rejno, Lukasik, Staszewski, Depowski, Prokopczuk, Banach. Coach. Nikola Grbic.
REFEREES: Gerothodoros from Athens (Greece) and Simonovic from Belgrade (Serbia).
SETS DURATION: 29', 30', 28', 35'; tot. 2h and 2'.
NOTES: match played behind closed doors. Trentino Itas: 9 blocks, 4 aces, 25 service errors, 6 action errors, 55% in attack, 57% (44%) in reception. Kedzierzyn-Kozle: 9 blocks, 4 aces, 22 service errors, 4 action errors, 52% in attack, 51% (34%) in reception. MVP Sliwka.
Trentino Volley Srl
Press Office