Trento, 06 May 2021
Big television exposure in the 2020/21 season: 50% of the matches were broadcasted live!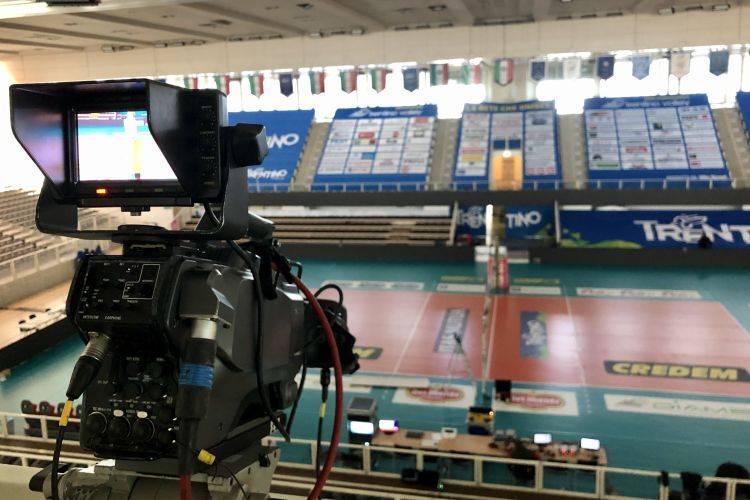 Almost forty-six hours of live coverage and precisely half of the half of the matches played were broadcasted live. Despite not having given further titles to the gialloblù palmares, the twenty-first year of activity of Trentino Volley was very positive from a television point of view as well.
The appeal enjoyed historically by the Company has further growth compared to the recent past, registering very interesting numbers. During the 2020/21 season, the matches broadcasted live with protagonist Itas Trentino were twenty-three; the data consider the nineteen live matches broadcasted by RAI Sport and the eight matches broadcasted by Sky Sport, four of them in simulcast by the two channels, both possessor of the rights of 2021 CEV Champions League.
50% of the official matches played by Trentino Volley (23 out of 46 overall) were then broadcasted live, offering an important advantage both to the sponsors that have chosen to support the corporate project and to the fans, who haven't been able to see their favourite team live and then have also been able to enjoy the pre-recorded broadcast of the 32 "Italian" matches on RTTR, the historic gialloblù TV partner.
In total, the hours of live broadcast on RAI Sport + (not encoded) were over thirty-three, but the data becomes even more important if we consider also the eight hours of Sky Sport, the quasi fifty-five hours of pre-recording on RTTR, and the over twenty-eight hours of national live streaming by Lega Volley Channel with www.elevensports.it, which has broadcasted live the matches not covered by the state TV sports channel and the twenty world streaming offers offered by the EuroVolley.tv portal for the 2021 CEV Champions League matches. The total is therefore 148h and 58'.
Finally, it should be emphasized how the fifteen games of the Italian championship broadcasted by RAI Sport + were simultaneously seen in eight different countries, thanks to the agreements signed by Lega Pallavolo Serie A with the international networks Sportklub (Serbia, Kosovo, Croatia, Bosnia and Herzegovina, Slovenia, Macedonia, Montenegro) and Polsat (Poland), in addition to the main world betting sites served by the IMG Arena agency.
The complete detail of the matches of Trentino Volley broadcasted live on television during the 2020/21 season (in brackets the channel that broadcasted the event):
Del Monte© Italian Super Cup 2020
Cucine Lube Civitanova-Itas Trentino, second leg semifinal (RAI Sport +)
Regular Season SuperLega Credem Banca 2020/21
Cucine Lube Civitanova-Itas Trentino (RAI Sport +)
Gas Sales Bluenergy Piacenza-Itas Trentino (RAI Sport +)
Sir Safety Conad Perugia-Itas Trentino (RAI Sport +)
NBV Verona-Itas Trentino (RAI Sport +)
Itas Trentino-Cucine Lube Civitanova (RAI Sport +)
Itas Trentino-Gas Sales Bluenergy Piacenza (RAI Sport +)
Leo Shoes Modena-Itas Trentino (RAI Sport +)
Sir Safety Conad Perugia-Itas Trentino (RAI Sport +)
Itas Trentino-Vero Volley Monza (RAI Sport +)
Del Monte© Italian Cup 2021
Sir Safety Conad Perugia-Itas Trentino, semifinal (RAI Sport +)
Play Off Scudetto SuperLega Credem Banca 2021
Itas Trentino-Gas Sales Bluenergy Piacenza, match 1 of the quarterfinals (RAI Sport +)
Cucine Lube Civitanova-Itas Trentino, match 1 of semifinal (RAI Sport +)
Itas Trentino-Cucine Lube Civitanova, match 2 of semifinal (RAI Sport +)
Itas Trentino-Cucine Lube Civitanova, match 4 of semifinal (RAI Sport +)
2021 CEV Champions League
Trentino Itas-VfB Friedrichshafen, group phase (RAI Sport + and Sky Sport Uno)
Lokomotiv Novosibirsk-Trentino Itas, group phase (Sky Sport Uno)
CEZ Karlovarsko-Trentino Itas, group phase (Sky Sport Arena)
Berlin Recycling Volleys-Trentino Itas, first leg of the quarterfinals (Sky Sport Arena)
Trentino Itas-Berlin Recycling Volleys, second leg of the quarterfinals (Sky Sport Arena)
Trentino Itas-Sir Sicoma Monini Perugia, first leg semifinal (RAI Sport + and Sky Sport Arena)
Sir Sicoma Monini Perugia-Trentino Itas, second leg semifinal (RAI Sport + and Sky Sport Uno)
Groupa Azoty Zaksa Kedzierzyn-Kozle-Trentino Itas (RAI Sport + and Sky Sport Uno)
Trentino Volley Srl
Press Office