Trento, 16 June 2021
Lavia: "Trento is a reference point, with Michieletto we will form a young couple"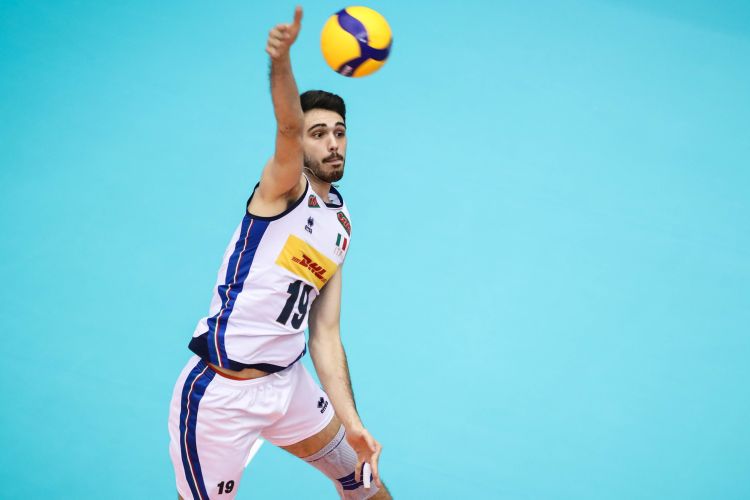 The first interview as player of Trentino Volley with Daniele Lavia, twenty-one Calabrian spiker who has been made official today.
Welcome to Trento, Daniele. After Modena, you arrive in another big place of the Italian volleyball. What does it mean for you?
"It means a lot, because my family and I have always seen this city and its Company as a reference point for those who want to play volleyball at high levels. For me, it's very important to arrive here; I thank Modena Volley for the lived experience in the last season, but now I'm very happy to start this new path and build something important".
You have been in the circle of the national team for several seasons and you surely have had the opportunity to talk about Trentino Volley with the many teammates who have already played in this Club. Who did you talk to the most?
"I have a close friendship with Cavuto and Giannelli, two players who owe everything to Trento because they grew in its young sector. Therefore, I could only receive excellent references on the gialloblù environment from them. I can't wait to start; I promise that from today I will give my best on every occasion".
What are your goals?
"On a personal level, I want to grow as much as possible, I still have to improve a lot and I'm sure that being able to work every day with a coach of the calibre of Angelo Lorenzetti will make everything easier. Regarding the goals of the team, we must try to win as much as possible and always aim high. It's the story of Trentino Volley that requires it".
You and Michieletto will be the fuel of the new team…
"And this is one of the most exciting aspects. Alessandro and I met in the latest months, working together in the national team and we already established a good feeling. I'm happy to continue playing with him and to represent a feasible couple for Trento and, I hope, also for the national team. We have similar characteristics because we are born as great receivers who then have improved the attack technique and the manual skill. I'm certain that the reception is an essential fundamental for a player of my role".
If you had to introduce yourself to the Trentino fans, how would you describe yourself?
"I'm a friendly, curious, determined but also a bit irritable guy. Take me like this".
In December you can return to play the Champions League…
"I debuted in this manifestation last year with the jersey of Modena and it was something very significant. It's the most difficult and formative championship; I'm happy to be able to compete again with the strongest teams in Europe because I'm sure that playing against them will help me to improve".
What was the turning point in your career?
"The transfer from Castellana Grotte to Ravenna to be able to play my first championship of SuperLega in 2018/19 season. There I understood that this passion could become a profession that, however, I carry on in parallel with my university studies. I'm enrolled on the course of Employment Consultation, a branch of the faculty of Jurisprudence".
Trentino Volley Srl
Press Office