Trento, 18 June 2021
Pinali: "I could remain in Modena but then Lorenzetti called me and…"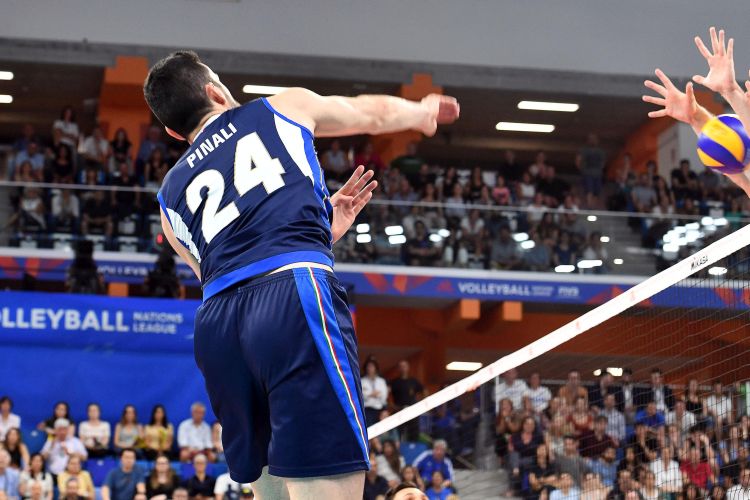 The first interview as a player of Trentino Volley to Giulio Pinali, 24-year-old player Emilian opposite spiker who has been made official today and was reached by telephone in Rimini, where he is with the Italian national team to play the VNL 2021.
Welcome to Trentino Volley Giulio. How did the opportunity to sign for the yellow-blue club come about?
"After the lived experience in the last season in Ravenna, I was searching for a team where I can continue my growth, possibly to play as a regular but I was considering to be even a reserve in a big Company. When everything seemed done to return to Modena, Lorenzetti called me asking to consider the hypothesis of coming to Trento".
How important was the possibility of being coached by Angelo again?
"A lot, also because my first authentic contact with the volleyball of SuperLega was with him in Modena in the 2015/16 season, when I trained for all the pre-championship preparation with the first team. I like a lot how he works, I share his idea of play and he can teach me a lot, also because I think to be an athlete still under development. In Trento I will also find his assistant Francesco Petrella, who I knew since the period of the Youth Sector in Modena".
How would you describe yourself from a technical point of view for those who don't know you?
"The statistics never tell everything about a player; it's true that my most evident fundamentals are the attack and the service, but actually, I like to try to be useful in all the play sectors and from this point of view I'm an odd opposite spiker, because I love defending and I feel satisfaction in a well-made bump".
How did you live your first season as a regular in SuperLega?
"It was a very important occasion for me, which offered me the possibility to play with continuity as a regular and to be a reference point for my team. There have been ups and downs but I'm happy with what this season offered me; I learned a lot and discovered where I can improve more. I can grow under all points of view but surely the biggest step I have to do at the level of mentality, both in training and in the match. I can find major regularity".
What is the experience in VNL 2021 offering you?
"It makes me grow right from the mentality point of view; every day, on the field, we try a different organization, alternating all the players and then quickly needs the ability to quickly adapt ourselves every time not only to the opponents, but also to our team. All of this is very instructive and stimulant. Being on the list of the twenty pre-selected players for the Tokyo Olympics is a great pleasure. Participating at such an event is obviously a dream; I'm trying to give my best to continue to nurture it".
What are your personal goals in view of the next season?
"We already talked about the argument of the improvement so, apart from that, I would like to reach a good personal balance, succeed to stay on the field as much as possible, and know that I have always given everything when I go out".
What do you think you can offer to Trentino Volley?
"Lorenzetti can surely incite me a lot, I was pleased to understand that he wanted me and I hope to be able to repay him and the Company from all points of view".
Trentino Volley Srl
Press Office