Trento, 18 July 2021
Albergati: "Pride and happiness, what a dream to play the SuperLega in Trento"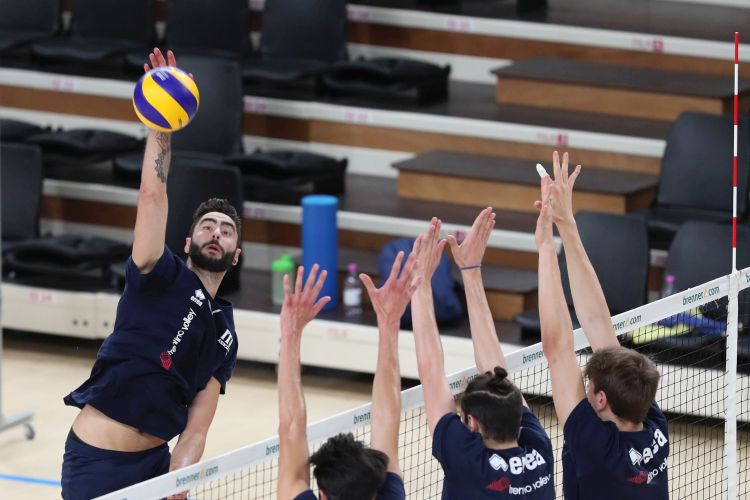 The first interview again as a player of Trentino Volley to Daniele Albergati, twenty-eight years old spiker of Orobia grown in the yellow-blue youth sector. His return was made official today.
Welcome back Daniele, what effect does it make you return to the ranks of Trentino Volley?
"My path has absolutely been particular because I started playing very young in this Company, preferring the volleyball instead of football also thanks to the advice of my father Antonio (former setter in Serie A in Bergamo and already the coach of the yellow-blue young teams, ed). After having ended my path in the yellow-blue nursery, from 2005 to 2015 before now I never arrived to wear the jersey of the team of SuperLega. It has always been my dream, but I admit that in the latest years such opportunity seemed to me even more distant; even more so is great to do it now, in the moment of full volleyball maturity".
Had you lost hope to return at the base?
"That one was always there but objectively I didn't expect to return this summer. I'm happy and proud, because before now I arrived to play if anything in Serie A2 in Bergamo, the city where I was born".
Can you tell us the path that took you here?
"In Trentino Volley I was trained year after year by all the main coaches that the Youth Sector could count on: Burattini, Agricola, Deanesi, Conci, Zingaro, Nardin, and Pacher. In the season 2015/16 I went to Bolzano to play in Serie B; I also found a job in a printing press and so I abandoned the idea to do the volleyball player of profession. Luckily, during that year my performances were rather good and at the end Motta di Livenza searched for me and asked me to return to be a full-time player. Later, I lived important experiences in Bergamo and Portomaggiore as well, the latest team in which I played in Serie A3, before returning here".
What type of player are you?
"I can perform different roles like the attacker of high ball. I'm born as opposite spiker, but I continued to train as spiker-receiver as well because I have a good bump and all the coaches I had gave me the advice to keep alive this alternative. On the field I like to have many responsibilities and I never back down".
You have surely already heard Angelo Lorenzetti; what did he ask you?
"I have known Angelo since 2017, when Trentino Volley started to organize in the summer training for the players who have left its youth sector directed right by him. I heard him before signing the contract and he asked me the willingness to perform different roles during the year, considering that I can be useful as both spiker and opposite spiker. Obviously, I accepted with enthusiasm, because I have always felt comfortable with him and I'm sure that you can improve even at twenty-eight years of age, especially if you have a great coach like him Lorenzetti who follow you daily".
What contribution can you give to the cause?
"I'm aware that initially I need to improve a lot technically and physically to handle the high rhythm, but the work doesn't scare me and I can't wait to start. It will be a year of sacrifices for me, because I have to give my best in training and, perhaps, I will have not many occasions to enter the field during the official matches. However, I am a player who never backs down and therefore I will make sure that training becomes the center of my week of activity".
What was the best season you have experienced so far in your career?
"Surely the one of 2017-2018 played in Bergamo, because it was the first time that I measured myself with the Serie A2 in my birth city. I was the second opposite spiker, but after the injury of the spiker Dolfo, the coach asked me to try playing in place 4; the experiment was lucky, giving me many satisfactions like the one of winning as a regular in the semifinal of the Italian Cup of Serie A2 against Siena, a team that then was promoted in SuperLega".
Trentino Volley Srl
Press Office