Trento, 31 July 2021
Yellow-blue roster completed with the arrival of the Belgian middle blocker Wout D'Heer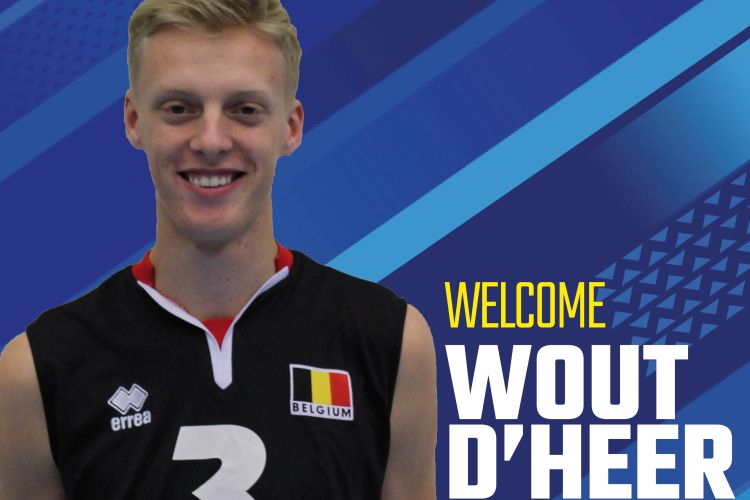 It will be young and Belgian the alternative in place 3 at the Serbian pair Lisinac-Podrascanin in the 2021/22 roster of Trentino Volley. Today, the 2021 yellow-blue summer market saves the last entry-operation: it's the twenty-year-old Wout D'Heer to complete the line of middle blockers available to Angelo Lorenzetti.
203 centimetres high and gifted with great technique at blocking and particularly long levers, the player hailing from Dendermonde (a town of Belgium at thirty kilometres from Brussels) has been recommended by the coach of the Marches, who already noticed him in the previous years following the young European championships, in which often Wout got on the podium, as tell the many conquered medals with Belgium Under 17, Under 19, and Under 20.
Despite the young age, he already has a good international experience; after having approached the volleyball before in the JTV Berlare and then Topsportschool Vilvoorde, in 2019 he passed at Gent, where he played his first biggest Belgian championship as regular (resulting as "Rookie of the Year", the best debut of the year) and in the successive season he also played the Champions League, wearing the jersey of Lindemans Aalst – Company from which Trentino Volley got him, making him signing the annual contract.
His strong inclination for blocking has proof in the statistics as well; D'Heer was the best blocker of the European championship Under 20 of 2020, where he was the captain of his national team, and he also resulted the best middle blocker of the tournament.
"Wout D'Heer is a guy who showed off right in that manifestation, and successively in the Belgian championship, so much so to deserve the convocation in the Seniores national team – underlined the coach of Trentino Volley Angelo Lorenzetti – . He is a player, who is competitively very effective, aggressive, and with good qualities at blocking. He immediately proved very motivated since the first contact, and this is a good help for the next season, in which we can work a lot to make him express himself at high levels in attack as well".
Wout D'Heer will wear the yellow-blue jersey number 3, in the past it was worn by middle blockers of the calibre of Hübner, Birarelli, and Burgsthaler, and he will be the second Belgian player of the history of Trentino Volley, after Simon Van de Voorde – his teammate at Aalst until just few months ago. He will arrive in Trento only in October, after having played with Belgium both the Seniores European championship and the World championship Under 20.
Trentino Volley Srl
Press Office