Trento, 31 August 2021
Eight players of Trentino Volley hunting for the continental title in 2021 EuroVolley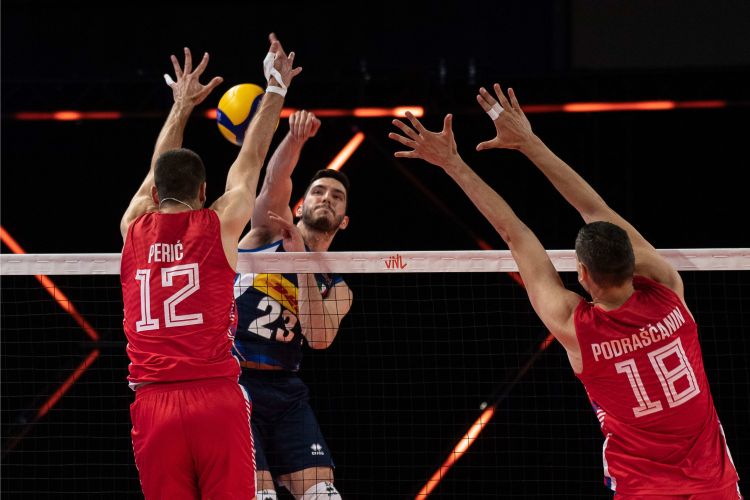 The Men's European Volleyball Championship 2021 officially kicks off on Wednesday 1st September, which, in this edition, will take place in four countries: Poland, Czech Republic, Finland, and Estonia. For nineteen days (the final is played in Katowice on 19 September), twenty-four national teams and three hundred thirty-six players will give battle hunting for the continental title, held by Serbia.
Between those, there are eight players of Trentino Volley, more than half of the new team: Daniele Lavia, Alessandro Michieletto, Giulio Pinali, and Riccardo Sbertoli with Italy; Julian Zenger with Germany, Marko Podrascanin and Srecko Lisinac with Serbia; Wout D'Heer with Belgium.
Michieletto, Pinali, and D'Heer are debuting in the biggest continental tournament for the National teams, considering that all the others have participated at least another time; the only ones to have already won the title are Podrascanin (two times) and Lisinac (one).
Serbia, the defending champion, is going to debut by facing Belgium on Thursday 2 September at 20.30 in Pool A of Krakow in Poland, which also includes the hosts, Greece, Portugal, and Ukraine. For the fans of Trentino Volley, it's immediately possible to see at work the three middle blockers of the new team of Itas Trentino. Italy was drawn in Pool B that is played in Ostrava (Czech Republic) and in which there are the hosts, Montenegro, Bulgaria, Slovenia, and Belarus (opponent of the Italian team at the debut on 3 September, at 14.15). Germany of Zenger (who has already won in this manifestation the bronze medal in 2017) was inserted in Pool D of Tallinn together with Estonia, France, Latvia, Slovakia, and Croatia (which will face at the debut on 3 September, at 17).
At the final ranking, which is going to begin at the last sixteen and will take place in two countries (Poland and Czech Republic), the first four qualified of every pool will qualify. The Final Four is played in Katowice between Saturday 18 and Sunday 19 September.
All the matches of Italy are going to be broadcasted live by RAI and DAZN, but the schedule of both broadcasting stations will offer every day some of the most interesting matches and the full two days of the Final Four.
The schedule of the first phase of the players of Trentino Volley
POOL A (Krakow - Poland): 2/9 – at 20.30 Belgium-Serbia; 3/9 at 17.30 Belgium- Portugal, at 20.30 Ukraine-Serbia; 4/9 at 17.30 Belgium-Greece, at 20.30 Serbia-Poland (live on DAZN); 6/9 at 17.30 Portugal-Serbia, at 20.30 Poland-Belgium.
POOL B (Ostrava – Czech Republic): 3/9 at 14.15 Italy- Belarus (live on RAI 2 and DAZN); 5/9 at 19 Italy-Montenegro (RAI Sport + and DAZN); 6/9 at 15.45 Italy-Bulgaria (RAI 2 and DAZN); 8/9 at 15.45 Italy-Slovenia (RAI 2 and DAZN); 9/9 at 19 Czech Republic-Italy (RAI 2 and DAZN).
POOL D (Tallinn - Estonia): 3/9 at 17 Germany-Croatia; 5/9 at 16 Germany-Estonia; 6/9 at 20 Germany-France; 7/9 at 17 Germany-Latvia; 9/9 at 17 Germany-Slovakia.
Trentino Volley Srl
Press Office