Trento, 31 August 2021
Podrascanin: "It's going to be a surprising European Championship..."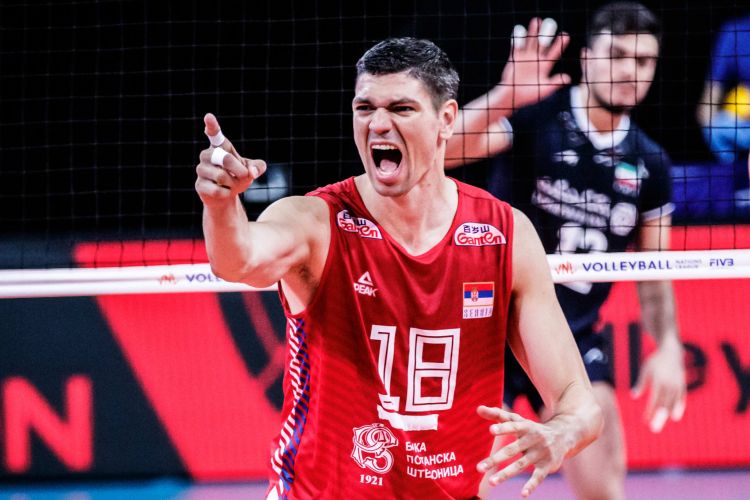 The European Championship 2021 that kicks off on 1st September sees two players of Trentino Volley participating as defending champions, by reason of the win at the 2019 edition. Together with Srecko Lisinac, Marko Podrascanin is part of the team of Serbia, which is among the favourites at the tournament.
"It's going to be a very good European Championship because many teams see this appointment as a great opportunity to give meaning at their summer season – explains Potke, reached by telephone in Belgrade before leaving for Krakow, where he plays the first phase in Pool A from Thursday - . I think of France, which arrives with the Olympic gold medal around its neck and will want to confirm itself, but also of Poland, which plays at home and wants to redeem the result of Tokyo, Russia, Slovenia, and even my Serbia, which won the last edition and it's going to try to defend the title with its teeth even if the balance of power can change in two years. Also for this reason I expect some surprises, as has always happened in the recent past; there are many opponents which play good volleyball such as Slovenia and Ukraine that, like us, did not have the Olympics to prepare and will therefore be even more energized".
"I am approaching this tournament in good shape – continued Podrascanin - ; the summer has been long but positive. We have almost qualified for the Final Four of VNL playing a very hard first phase, then we have had three weeks off that allowed us to rest and catch our breath, and at last we have got back to train, putting, in my opinion, a lot of energy, also in view of the season of clubs. Lisinac has fully recovered from the ankle injury suffered in May in the first seasonal match with Serbia in Rimini, and he's ready to play a great European Championship. My hope is to arrive until the end of the tournament and then dedicate myself to Trentino Volley with even more positive sensations. The team put together by the Company during the market is very interesting; there are three expert players like me, Lisinac and Kaziyski who will have the task of helping all the others to find the right path. We are going to live a season without a lot of pressure, and we can take advantage of this condition to grow and give ourselves some good satisfaction. On paper, Itas Trentino is going to start in the second row, but this could be an advantage to try to make a leap forward during the year. We have on our team the Italian players of greater perspective, and we can only grow".
Trentino Volley Srl
Press Office