Trento, 11 September 2021
Final Four of Super Cup 2021 at the Eurosuole Forum in Civitanova on 23 and 24 October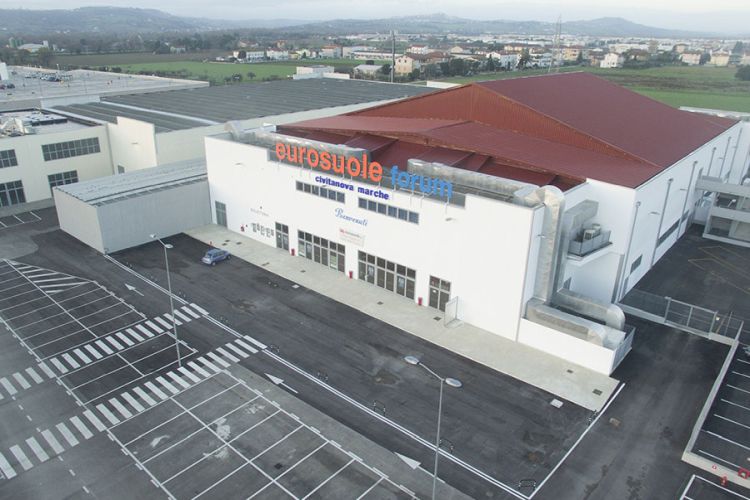 The Eurosuole Forum in Civitanova Marche is going to be the place to host the first event of the season 2021/22 of Italian volleyball. Between Saturday 23 and Sunday 24 October, the Final Four of Del Monte® Super Cup 2021 is going to be played in the stadium of the Marches.
There will once again be Itas Trentino among the four protagonists, qualified thanks to the third final place in the regular season of SuperLega Credem Banca of the last season, which is going to face Sir Safety Conad Perugia in the second semifinal on Saturday, just as already happened in the same stadium in the edition 2019 and 2017 (in both cases it lost by 1-3). The first semifinal plans Cucine Lube Civitanova (which, by reason of the win of Scudetto 2021, had the right to host the event at home) against Vero Volley Monza, at its first absolute participation in this competition.
For Trentino Volley, this is the twelfth participation (the eleventh consecutive) at the competition, already won in two circumstances (edition 2011 and 2013). The one played on 23 October is going to be the twenty-four official match at the Eurosuole Forum in Civitanova Marche for the yellow-blue Club: the detail speaks of nineteen against Cucine Lube (with only one win on last 28 March), two against Perugia, and one against Modena (matches always referred to Super Cup). The full manifestation will be broadcasted live by RAI Sport +.
The program
Saturday 23 October 2021
at 15.15 Cucine Lube Civitanova – Vero Volley Monza
at 18.00 Sir Safety Conad Perugia – Itas Trentino
Sunday 24 October 2021
at 18.00 FINAL
Trentino Volley Srl
Press Office