Trento, 19 September 2021
Preparation, in archive the fourth week of training. Lorenzetti's analysis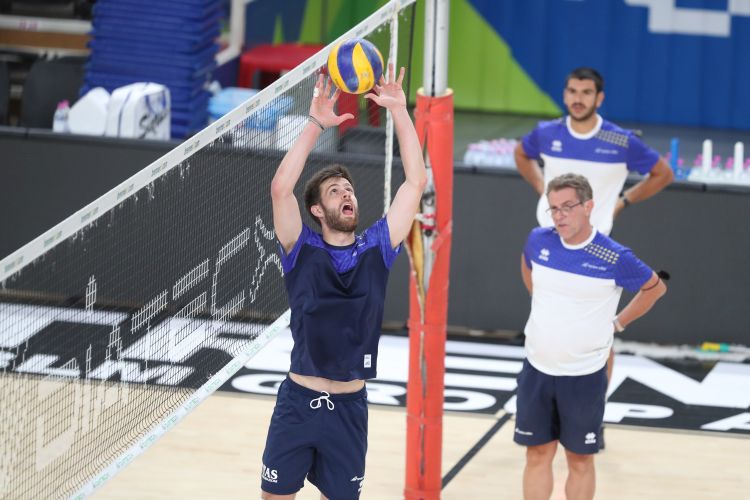 Today, it ended the fourth week of pre-championship preparation of Itas Trentino at the BLM Group Arena. The yellow-blue underwent a double session (individual technique in the morning, group work in the late afternoon) and they gave appointment already on Monday at 9.30, when the next period of work will start, which is characterized by the first test match (non-official) of the season, scheduled on Thursday at 16.30 at the Kioene Arena in Padua.
"This is, as usually happens, a somewhat particular preparation, because the players of the team available are very few and therefore in these first weeks we have to pursue more than anything else individual goals, both from a physical and a technical point of view – said the coach Angelo Lorenzetti - . I'm pleased with what we have done until now, the condition is growing from all points of view, also thanks to the help offered in the gym by the guys of the youth sector, who numerically and qualitatively are strengthening the group in the best possible way. However, it's obvious that we have to wait to have all the other athletes, for now busy with the national teams, to implement the ideas of our game. This period allowed me to know better two players like Albergati and Kaziyski; with Matey, since the beginning the dialogue has been very constructive, propositional, and with incessant feedbacks. I'm sure that he can always be better as it's normal for us to pursue the objectives of this Club together".
"The test match of next Thursday in Padua is an important moment of our preparation, because it's from months that the players wait to return to play a true match – continued Lorenzetti - . It's the very first step of approach at the debut in the championship. In view of the home debut with Verona, we are going gradually to get back all the players; Zenger will join the group before the others simply because the German libero finished the European Championship early. The others will arrive at the end of next week, since we have given all the players seven full days of rest. This is different only for Michieletto and D'Heer, who are going to play the Under 21 World Cup until the beginning of October and will therefore arrive in Trento later on".
Trentino Volley Srl
Press Office