Trento, 22 September 2021
For Alessandro Michieletto a radiant yellow-blue future: triennial contract, until 2024!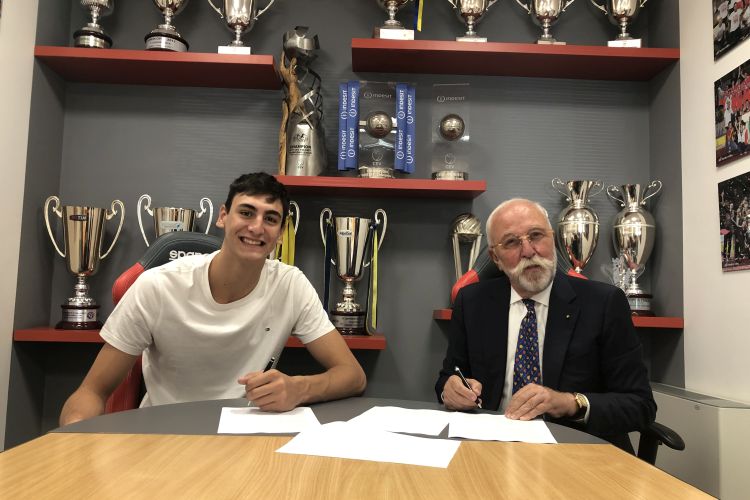 The fans of Trentino Volley can already celebrate a great result, even before the official start of the season 2021/22. Alessandro Michieletto, the rising star of Italian volleyball, has signed the contract that will tie him with the yellow-blue Club for at least another three seasons, until June 2024. His present, but especially his future, is going to be radiant and yellow-blue, colours that he wears since he was a kid.
"His statement during the last season has surprised many, but not us who have been known him since the times of Boy League Under 14 – said the President of Trentino Volley Diego Mosna - . Alessandro is surely the major talent, physical and technical, that Italian volleyball has expressed in recent years; we are proud that his career can continue in the Club in which he has grown. The sign of the triennial contract is the best guarantee on the future of Trentino Volley: the yellow-blue fans can continue to see high levels volleyball and dream big".
"I grew and I want to continue doing it wearing the jersey of Trentino Volley – these are the words of Alessandro Michieletto after the sign of the contract - . For me, this is more than just a Club: it's the environment where I started to love volleyball, where I started to dream to play at high levels, and then actually succeeded in doing it. I'm grateful for everything that the Company, the President, the executives, and the coaches have been doing and are doing for me. It has always been my dream to continue my career here; I want to keep wearing the jersey number five, and moreover I want to offer my contribution to get a great yellow-blue victory as soon as possible".
Trentino Volley Srl
Press Office