Padova, 23 September 2021
Preparation, in the joint training in Padua (2-2) many comforting indications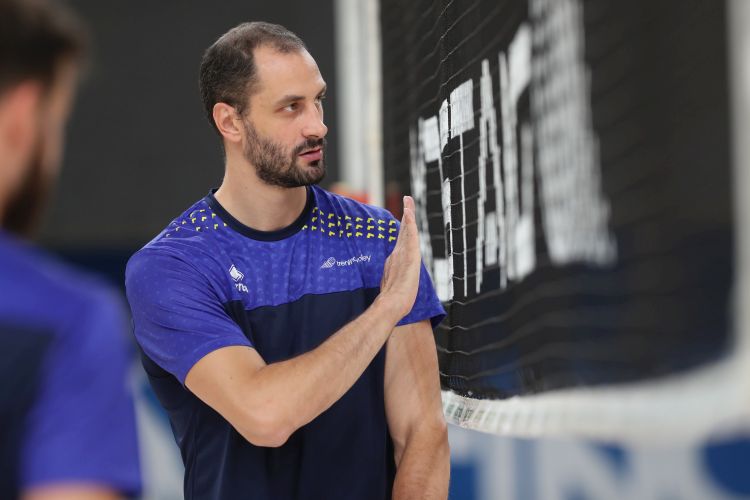 Itas Trentino sends in archive the first month of 2021/22 pre-championship preparation with four sets played this afternoon at the Kioene Arena in Padua. With only five regulars of the new team available (the last to arrive, the German libero Zenger, has taken part in the away game, but he only carried out differentiated work in the sideline) and without counting on all the middle blockers, more than the result, the coach Angelo Lorenzetti wanted to find the first answers about the physical condition of the players who have done thirty-one days of training.
In truth, the score has also been comforting: a final 2-2, outcome of promising signals, especially in the first part of the session, when the coach of Trento has lined up the best possible formation, immediately finding satisfying responses of the entire defensive phase and then from players like Kaziyski (on the field in the first two sets won, and author of 14 points with 65% in attack), Cavuto (best yellow-blue scorer with 15 points, 58% on the net, and one ace), and Albergati (12 with two blocks), well managed by Sperotto. On 2-0 in his favour, Angelo Lorenzetti has done a wide rotation of the players, making play also young persons like Parolari, Bonizzato, Depalma, and Simoni in addition to today regulars' middle blockers Coser and Dell'Osso.
Below the report of the joint training played this afternoon at the Kioene Arena in Padua.
Kioene Padova-Itas Trentino 2-2
(22-25, 23-25, 25-18, 25-19)
KIOENE PADOVA: Volpato 7, Zimmermann, Loeppky 11, Vitelli 8, Weber 14, Petrov 10, Bassanello (L); Guzzo, Canella 3, Bottolo 9, Zoppellari. Did not play: Cengia, Schiro and Iervolino. Coach: Jacopo Cuttini.
ITAS TRENTINO: Sperotto 1, Kaziyski 14, Dell'Osso 3, Albergati 12, Cavuto 15, Coser 2, De Angelis (L); Simoni 2, Depalma 1, Parolari 5, Bonizzato 3. Did not play: Zenger. Coach: Angelo Lorenzetti.
SETS DURATION: 22', 23', 21', 21'; tot. 1h and 27'.
NOTES: Kioene Padova: 6 blocks, 6 aces, 23 service errors, 5 action errors, 54% in attack, 40% (22%) in reception. Itas Trentino: 4 blocks, 3 aces, 19 service errors, 5 action errors, 50% in attack, 42% (23%) in reception.


Trentino Volley Srl
Press Office