Trento, 13 January 2022
Champions League, here other three points for the Pool E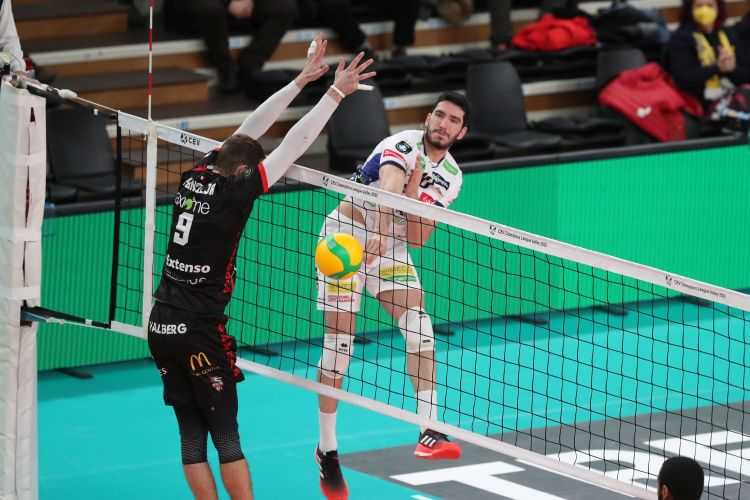 The home path of the Trentino Itas in 2022 CEV Champions League continues with 3-0 wins. After the great and important tri-set success with Fenerbahce a month ago, tonight at the BLM Group Arena it was the French Champions of Cannes in office who quickly leave the way for the Gialloblù, who, in just 58 minutes (the shortest game ever in the Gialloblù history) took the three points up at stake in the third round of Pool E, placing in the second place in the standings in the qualifying round.
The best possible result to continue to nourish hopes of qualification and get to the direct clash against the Turks, scheduled in thirteen days, with excellent credentials. Kaziyski and his team-mates didn't really have to work too hard to get it; between absences and problems in the game, Cannes never put up a fight, leaving room with a 25-13 periodical for the hosts who showed excellent numbers: 11 blocks, 9 aces (against just five mistakes) and 59% in attack, well led by Riccardo Sbertoli. The setter won the title of mvp with merit, also thanks to the three bloscks and two aces on the ground, for a total of 7 individual points. Lisinac, Lavia and Podrascanin (9 points each) and Michieletto, the best scorer with 11 winning balls, also played very well.
Below is the scoreboard of the third game of Pool E of the Main Phase 2022 CEV Champions League played tonight at the BLM Group Arena in Trento.

Trentino Itas-As Cannes Dragons 3-0
(25-13, 25-13, 25-13)
TRENTINO ITAS: Lavia 9, Michieletto 11, Podrascanin 9, Sbertoli 7, Kaziyski 6, Lisinac 9, Zenger (L); Pinali 5, D'Heer 1, Stay. N.e. Cavuto and Sperotto. All. Angelo Lorenzetti.
AS CANNES DRAGONS: Bregent 1, Koncilja 9, Gruvaeus 6, Cveticanin 9, Batak, Annicette 3, Mouiel (L); Demryurek, Chupp, Gelinski. N.e. Sossenheimer, Klyamar, Wendt. All. Nikola Matijasevic.
REFEREES: Ferreira of Porto (Portugal) and Ivanov of Sofia (Bulgaria).
DURATION OF THE SETS: 19', 20', 19'; tot.58'
NOTES: 1,151 spectators, takings of 11,084 euros. Trentino Itas: 11 blocks, 9 aces, 5 serving mistakes, 6 action mistakes, 59% attacking, 72% (21%) receiving. As Cannes Dragons: 2 blocks, 0 aces, 12 serving mistakes, 5 action mistakes, 39% attacking, 54% (26%) receiving. Mvp Sbertoli.
Trentino Volley Srl
Press Office