Trento, 13 January 2022
Trentino Itas-As Cannes Dragons 3-0, the match report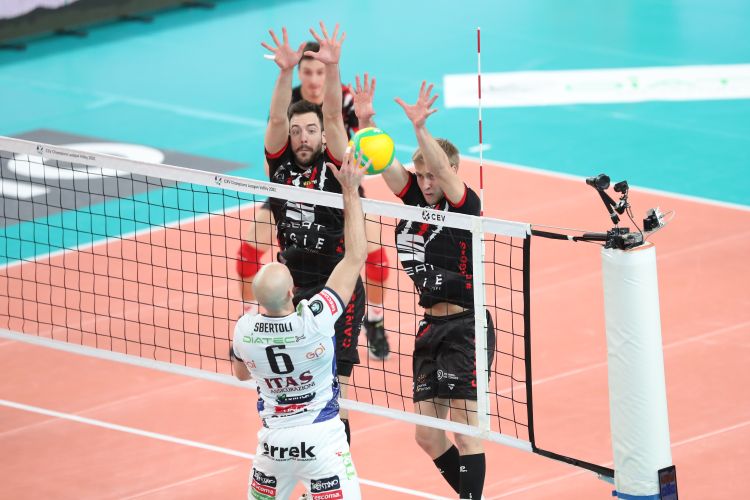 The match report. Trentino Itas returns to play an official match after a forced break of ten days, appearing in a line-up like: Sbertoli directing, Lavia opposite spike, Kaziyski and Michieletto hitter spikers, Lisinac and Podrascanin middle blockers, Zenger libero. As Cannes Dragons responds with Batak at the setter, Koncilja opposite spiker, Anicette and Gruvaeus in the group, Bregent and Cveticanin middle blockers, Mouiel libero. The hosts got of to a rocket start, taking full advantage of the vein of their Serbian middle blocker: Lisinac attacks and blocks, Podrascanin also puts an ace in it and it is immediately 7-1. The timeout immediately requested by Matijasevic did not manage to shake his team; Trentino Itas traveled fast even with the counterattack, which was essential in which Lavia started to score points (10-3 and 14-5). On the 17-6, ace made by Lavia, Cannes interrupted the game again and de facto had already finished its first set, since Trento continued to dominate on the serve and on the block, resulting at the change of field already on the 25-13.
The script doesn't change a comma in the second fraction; the Gialloblù doesn't have any trouble finding breakpoints in all the fundamentals (5-1 and 8-3), facilitated by a transalpine team that makes many mistakes. Lose for lost, the guests try to force the serve (13-6), without getting appreciable results; Trento works well in defence and in the block, and creates even more gap (18-9), running towards 2-0 with Pinali on the field (Lavia inside). The double advantage in terms of set comes on 25-13, still the same as the previous partial.
In the third period Lorenzetti confirmed Pinali on the field but this time Kaziyski made room for him; the substance didn't change, because Trentino Itas jumped straight to 5-1. Alessandro Michieletto is also added to the break point to the party, who puts ball after ball to the ground, creating even more gap between the two formations (10-4 and 13-5). The locals loosened their grip a bit later and Cannes tried to raise his head, at least until 15-10; then it was again Trentino domination with Michieletto who also put in a row two aces (20-10). 3-0 comes in just over an hour, still on 25-13.
Trentino Volley Srl
Press Office