Trento, 13 January 2022
Lorenzetti after Trento-Cannes 3-0: "We needed to find a rhythm of the game"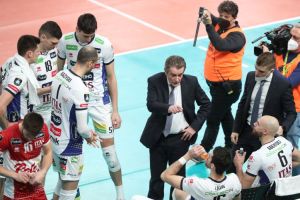 "We knew that Cannes was in serious difficulty at this time of the season for so many reasons, but we needed to find a rhythm of the game and that's why I proposed the starting line-up in the first half of the race", commented Trentino Itas coach Angelo Lorenzetti at the end of the match. "We got the result we wanted and we are satisfied, even if we made some mistakes during the game, which we usually don't. We have two days ahead of us to make the most of it to prepare well for the next important meeting."
The Gialloblù will be back on the field at the BLM Group Arena on Sunday 16 January at 6pm to play the quarterfinal of the Del Monte Coppa Italia with direct elimination against Vero Volley Monza. In the Champions League, on the other hand, the closest commitment on the schedule is set for January 26, 2022: 17:00 in Istanbul for the first round of the return round to be played at Fenerbahce's home.
Trentino Volley Srl
Press Office