Trento, 16 January 2022
Itas Trentino overcomes Monza once again and gains access to the Final 4 of Coppa Italia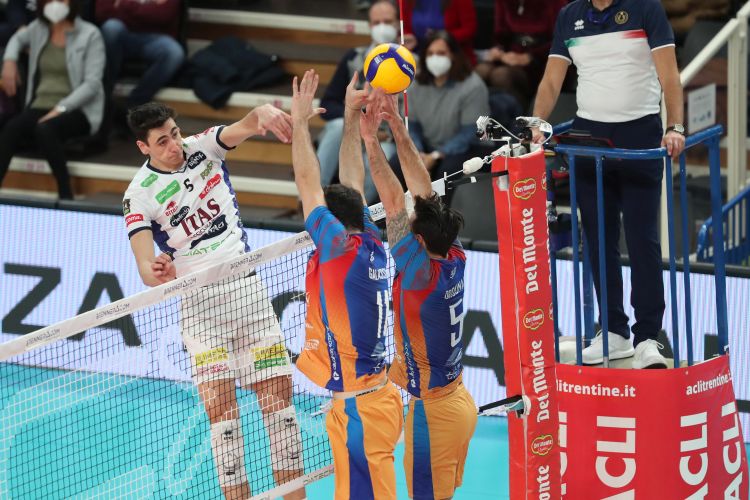 Itas Trentino did not lose the first in-or-out appointment of 2022. Confirming the favourable tradition with Vero Volley Monza, this evening the yellow-blue team gained access to the Final Four of the Del Monte® Coppa Italia for the 13th consecutive season (the 15th overall).
The certainty of the presence in the weekend of March 5th and 6th at the UnipolArena in Bologna, where the 44th edition of the highest national trophy will be awarded, came thanks to the 3-0 victory at the BLM Group Arena against the Brianza team in the single match of the quarter-finals; in the semifinal, the opponent will be Milan, for the remake of the contest already staged in the quarter-finals of the 2019 and 2020 editions. The third success in as many matches of the season against Monza came in a sharper way than the previous ones of October 24th and November 14th. Taking advantage of the line-up problems of the opponents, without the regulars Grozer and Grozdanov, and using the advantage of being able to play the match at home, the hosts were able to put great pressure on Vero Volley right from the start, which was overwhelmed in the first two sets with great rhythm in attack, block and serve. Lavia (best scorer with 16 points), Lisinac (extraordinary at block, 5 blocks for him), Sbertoli (very alert at the direction) and Zenger (mvp for the defence) dragged the team towards a peremptory 2-0. In the third set, the yellow-blue team loosened their grip a little on 21-15, allowing the Brianzoli to limit the defense, but the great performance did not change.
Itas Trentino-Vero Volley Monza 3-0
(25-16, 25-13, 25-21)
ITAS TRENTINO: Podrascanin 5, Sbertoli 4, Kaziyski 12, Lisinac 10, Lavia 16, Michieletto 7, Zenger (L). N.e. D'Heer, Cavuto, Pinali, Albergati, Sperotto. All. Angelo Lorenzetti.
VERO VOLLEY: Orduna 1, Karyagin 5, Beretta 7, Davyskiba 11, Dzavoronok 8, Galassi 3, Federici (L); Katic 2, Gaggini (L). N.e. Magliano, Gianotti and Rossi. Coach Massimo Eccheli.
REFEREES: Goitre from Turin and Pozzato from Bolzano.
SET DURATION: 21', 21', 25'; tot 1h 7'.
NOTES: 1,243 spectators, takings 12,388 euros. Itas Trentino: 11 blocks, 4 aces, 9 hitting errors, 3 action errors, 49% in attack, 43% (21%) in reception. Vero Volley: 5 blocks, 2 aces, 10 hitting errors, 9 action errors, 33% in attack, 48% (179%) in reception Mvp Zenger.
Trentino Volley Srl
Press Office