Istanbul (Turkey), 25 January 2022
On Wednesday in Turkey the fourth match of Pool E for 2022 CEV Champions League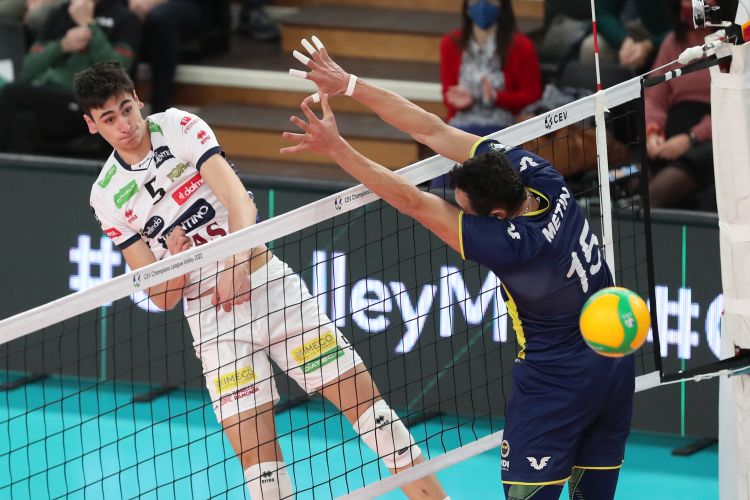 2022 CEV Champions League gets back in the court in the last week of January to compete for the fourth round of Main Phase, the first of the second round. Trentino Itas will start the second round of Pool E at home of Fenerbahce HDI Istanbul. The starting whistle is at 5.00 pm in Italy (19 local time) at Burhan Felek Voleybol Salonu: live on Radio Dolomiti and discovery+.
HERE ITAS TRENTINO The yellow-blue line-up faces the first away game of 2022 (it has only played home games up to now, four in a row) and it has to do it without relying on one of its most important players, Srecko Lisinac. The Serbian middle-blocker remained in Trento because he tested positive for Covid-19 in the last molecular test before leaving for Turkey. The Belgian Wout D'Heer will play in his place in an event to win to keep the dream of qualification in quarter final alive (only the first teams ranked of five rounds and the three best second ranked are admitted).
"This is an important match because we have a lot to earn – the coach Angelo Lorenzetti doesn't hide himself – and even more so I am sorry that Lisinac won't be with us but we will get in the court with the aim to gain the full success and give Srecko the opportunity to play many other matches in this competition. We have to be ready for a completely different match compared to the one played in mid-December in Trento; Fenerbahce at home is a concrete and fearsome team. Maybe we don't have the pace of the game in our legs, but it is true that we have worked hard from a physical point of view in the last weeks. We are prepared and ready for a battle, as it should be".
The coach of Itas Trentino will take advantage of the last trainings before the match, this afternoon and on Wednesday morning, to organize some technical-tactical aspects in view of the eighth international match of yellow-blue season.
SEVENTH AWAY GAME IN TURKEY OF TRENTINO VOLLEY'S HISTORY This is the seventh away game in Turkey for Trentino Volley, that has begun on Monday morning and will end on early Thursday afternoon (return in Trento is programmed around 15 on 27 January). It has been two years since the last time Trentino Volley has been to Turkey: on 30 January 2020 the yellow-blue team played and won 3-0 in a similar match during the group stage of Pool A of Champions League. The most significant previous match is the one of 26 March 2019, then the yellow-blue team conquered the CEV Cup at Burhan Felek Voleybol Salonu thanks to a success at tie break over Galatasaray. They had already played a match in the densely populated metropolis on 1 March 2017 (defeat 2-3 against Fenerbahce in the semifinal match of second round 2017 CEV Cup). The absolute debut in Turkish land was on 14 December 2004, when the Itas Djatec Trentino of that time played the second round in the last sixteen of CEV Cup in Ankara, losing for 1-3 and expelled from the competition. This will be the 190th international match of Trentino Volley's history, the 108th of all the time in Champions League in which it has achieved victory 84 previous matches.
THE OPPONENTS Fenerbahce HDI Istanbul is waiting for the visit of Itas Trentino, knowing that Wednesday match will be the last chance to compete for the second place of Pool E in the competition. Daniel Castellani's team arrives to this appointment with a home defeat in championship, 1-3 in four set against Tokat of the former yellow-blue member Teppan (25 points). This event hasn't changed the good impression yellow-black team made in the first part of the tournament, in which they have scored 12 victories in 16 matches and 36 points (third place six point from Ankara). The historical team of the main sport-centre of Istanbul has invested in this sport especially in the last two decades, as a consequence it has added several foreigner players to its shortlist that previously had been the main characters of Italian championship for many years. Together with the French Louati (ex Padova and Monza) and the Iranian middle-blocker Mousavi ex Piacenza, the setter Marouf is probably coming too (ex Siena), who could fill up again the troop of players that we have already seen in our SuperLega. Fenerbahce HDI Istanbul players: 1. Kaan Gurbuz (o), 4. Yacine Louati (s), 5. Hasan Yesilbudak (l), 6. Seyed Mousavi Eraghi (c), 7. Ahmet Tumer (c), 8. Izzet Unver (s), 9. Burak Mert (l), 10. Emre Batur (c), 11. Taha Erden (s), 13. Salvador Hidalgo Oliva (s), 14. Hasan Sikar (c), 15. Metin Toy (o), 16. Ogulcan Yatgin (p), 17. Muhammet Kaya (p), 19. Bora Jozef Stanicki (s), 20. Doruk Daioglu (l). Coach Daniel Castellani.
THE SITUATION OF POOL E Wednesday match in Istanbul will start the second round of Pool E, headed with full score by Perugia up to now (three victories 3-0), that will face the last ranked Cannes on Thursday evening. Trentino Itas is second with six points (2 victories) and it has to win the match in Turkey to hold back Fenerbahce (1 victory). The fifth day will be between 8 and 10 February, that will be marked by the Italian derby to be played at BLM Group Arena on Thursday at 19.30.
PREVIOUS MATCHES The official competitions between the two Society will become six with Wednesday match. The two have already faced each other in a double match CEV Cup 2017, a double round of 2020 Cev Champions League and a match in the first round of this edition of Champions League (ended 3-0 for Trento last 13 December). The report is 4-1 for the yellow-blue, that won at home on 28 March 2017 and then won 3-1 the last previous match in Turkey (30 January). Itas Trentino has won fourteen previous matches against the Turkish team, taking into account also the five games against Izmir (all won), two against Halkbank Ankara (both lost) and two against Galatasaray (both won): the total report is eleven victories and three defeats.
REFEREES The match will be directed by Alexey Pashkevich, first Russian referee from Moscow, and by Ari Jokelainen, second Finnish referee from Rovaniemi. They both have only one previous match with Trentino Volley; Pashkevich directed Civitanova-Trento 3-1 on 4 April 2018 (first round of Playoff 6 of Champions) while Jokelainen directed Trento-Tours 3-0 on 12 April 2017-final of first round Cev Cup.
RADIO AND INTERNET The match will be live streaming on Radio Dolomiti at 17, radio partner of Trentino Volley. The frequencies can be found on www.radiodolomiti.com, where it's possible to listen to the radio commentary in streaming.
There is also the live streaming video on "discovery+" platform, buying the package "Entertainment and Sport" (annual subscription for 69,90€). For more information about the service: www.discoveryplus.it/myaccount/products.
On Internet, the point-by-point updates will be made by the website of CEV (https://cevlive.cev.eu/DV_LiveScore.aspx?ID=46071), by www.trentinovolley.it, and by the yellow-blue Social Networks (www.trentinovolley.it/facebook, www.trentinovolley.it/instagram and www.trentinovolley.it/twitter).
Trentino Volley Srl
Press Office