Trento, 19 May 2022
On Friday starts the operation "SuperFinals": transfer and training in Ljubljana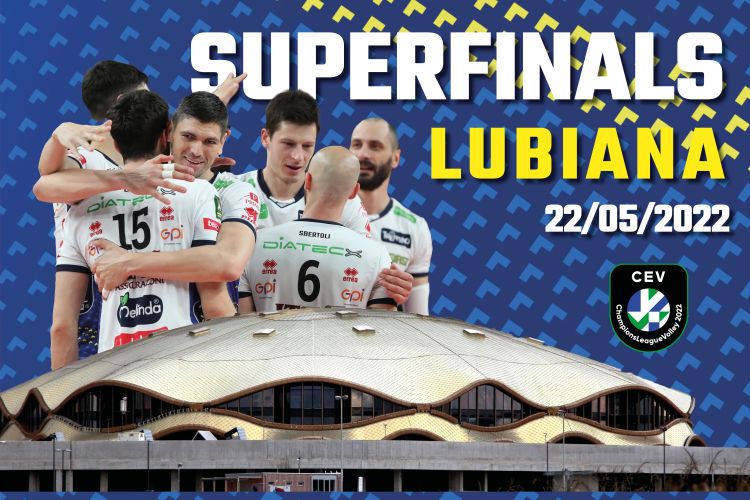 The operation "Superfinals" of 2022 CEV Champions League officially starts for Itas Trentino on Friday May 20th. Around 8 a.m., the yellow-blue formation will be at BLM Group Arena to travel to Ljubljana, which the team will reach at midday by bus. Trentino Volley will set foot in Slovenia after thirteen years and four months from the only previous match (January 21st 2009, success in four sets against Bled) so as face the most important and conclusive appointment of the 2021/22 season.
The team will stay in the Slovenian capital till Monday morning, going back to Trento first in the afternoon of the same day, again by bus. The first contact with the Arena Stozice, the facility with a capacity of more then eleven thousand people where the Society of Trener street will play for the first time in its history, will only take place on Saturday evening. On Friday afternoon the team will train in Dvorana Tivoli Hall, the facility where the Club of Trener street played the previous match in Ljubljana in 2009.
Trentino Itas will play in the Arena Stozice (occupied till the day before by the concert of Big Foot Mama, a Slovenian rock band) on Saturday evening and then on Sunday morning for the classical finishing touch of the match. For this circumstance, Angelo Lorenzetti will have available all thirteen players that were in the roster of 2021/22: Sbertoli and Sperotto as setters, Albergati and Pinali as opposite spikers, Cavuto, Kaziyski, Lavia and Michieletto as wing spikers, D'heer, Lisinac and Podrascanin at the centre, De Angelis and Zenger as liberos. Together with them there is the technical, medical and the executive team.
During the three-day stay in Ljubljana, the players will do vary activities closely with the Communication Office of CEV, which foresaw for some of the players some appointments dedicated on the Social Network and an online press conference (scheduled on Saturday at 12 a.m.) where the trainer Angelo Lorenzetti and the captain Matey Kaziyski will take part.
Trentino Volley Srl
Press Office