Ljubljana (Slovenia), 22 May 2022
Champions League stays in Poland: Kedzierzyn-Kozle wins 3-0 over Trentino Itas in Lubiana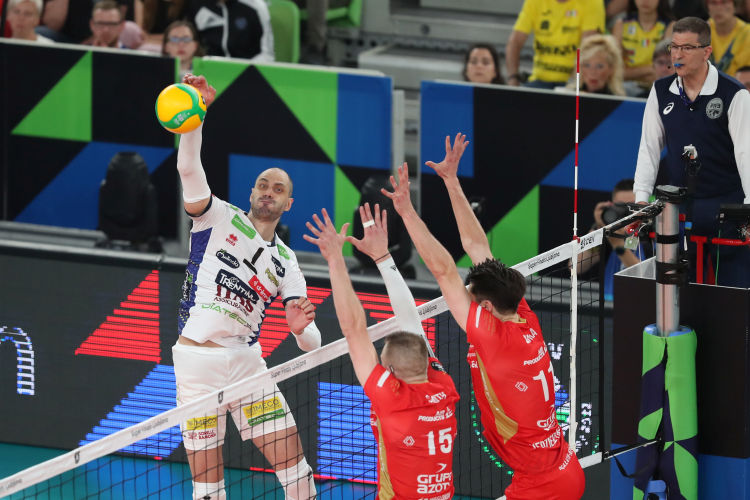 The assault on the fourth Champions League in its history remains bewitched for Trentino Itas. The dream of overturning the result of the previous edition and return to write, after eleven years, the name in the roll of honor of the most prestigious international club event, for the Gialloblù lineup was extinguished in the advantages of the third set of tonight's match at the Arena Stozice in Lubiana. On Slovenian soil today Trento failed to complete its splendid continental run, succumbing 0-3 at the hands of the Poles of Groupa Azoty Kedzierzyn-Kozle.
The reigning champions thus confirmed, twelve and a half months after the Verona Final, their hegemony in the European arena, centering a history-making double and culminating a season that had seen them win it all in Poland as well with a very continuous performance devoid of major flaws in which Semeniuk (best scorer and mvp of the match thanks to 27 personal points with 74%) was able to exalt himself and his teammates. The Poles had a better approach to the match, managing later to contain even the comeback of the opponents, who with the flashes at the net of Kaziyski (the best of his with 16 winning balls and 57% in attack) and Michieletto (3 blocks and an ace for a total of 13 points) often tried to turn the tide without succeeding, however. The long tug-of-war engaged in the final third set showed how Trentino Itas was often close to the opponent without ever having a concrete chance to reopen the match, which was well channeled by Kedzierzyn-Kozle in every single fraction.
Below is the scoreboard of the 2022 CEV Champions League Final, played tonight at Arena Stozice in Lubiana.
Grupa Azoty Kedzierzyn-Kozle-Trentino Itas 3-0
(25-22, 25-20, 32-30)
GROUPA AZOTY: Smith 10, Kaczmarek 13, Semeniuk 27, Rejno 3, Janusz, Shoji (L); Kluth. N.e. Kosian, Staszewski, Kalembka, Kozlowski, Zalinski, Banach All. Gheorghe Cretu.
TRENTINO ITAS: Sbertoli 1, Kaziyski 16, Lisinac 9, Lavia 6, Michieletto 13, Podrascanin 5, Zenger (L); D'Heer, Pinali. Cavuto, Albergati, Sperotto, De Angelis. All. Angelo Lorenzetti.
REFEREES: Collados of Vienne (France) and Ozbar of Istanbul (Turkey).
SET DURATION: 32', 26', 39'; tot. 1h 36'.
NOTES: 9,304 spectators, box office not disclosed. Grupa Azoty Kedzierzyn-Kozle: 4 walls, 2 aces, 17 hitting errors, 5 action errors, 55% offense, 46% (29%) reception. Trentino Itas: 5 blocks, 3 aces, 11 hitting errors, 10 action errors, 48% offense, 48% (24%) reception. Mvp Semeniuk.
Trentino Volley Srl
Press Office