Ljubljana (Slovenia), 22 May 2022
Grupa Azoty Kedzierzyn-Kozle-Trentino Itas 3-0, the match report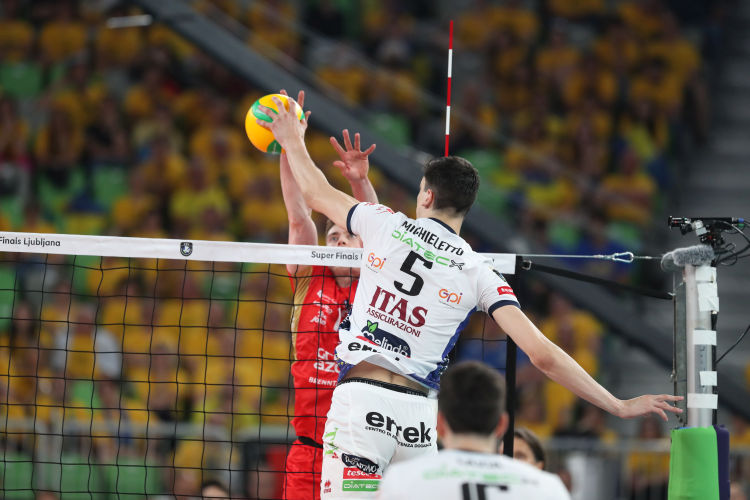 Match report. Trentino Itas came in a standard lineup at Lubiana's Stozice Arena: Sbertoli at the director's position, Lavia, Kaziyski and Michieletto on high ball, Lisinac and Podrascanin as middle blocker and Zenger as libero. Grupa Azoty Kedzierzyn-Kozle responds with Janusz as setter, Kaczmarek opposite spiker, Semeniuk and Sliwka hitter spikers, Smith and Rejno middle blockers, Shoji as libero. The Gialloblù initially struggle to get into the game, partly because Lisinac suffers at the net (a block suffered and attack error) and so the opponents immediately escape on 1-4. Kaziyski tries to sound the charge and brings his team back in close contact (6-7), but the balance is short-lived because the Poles re-accelerate with Kaczmarek (ace for 8-11) and then come back to have an important margin (10-15) thanks to Semeniuk, who in serve and attack hurts Trento. In the middle section, the European Champions revived with Michieletto (attack and ace) and Kaziyski, who almost single-handedly signed the tie at 16. Grupa Azoty again restarted (18-20 and 20-23) with Kaczmarek and closed the first set on 22-25, after Kaziyski, again him, had tried again to sew up the score situation until 22-23.
Trentino Itas, led by its captain, tried to get off to a different start in the second set, which began to lead from the first bars (5-4 and 8-6). When Matey's streak at the net runs out for Kedzierzyn-Kozle, it is easy to find parity at ten and run away again (13-15, Kaziyski's reception error, followed by his own attack error). The Poles are a runaway train steadily increasing their speed thanks to the effectiveness of their high ball trio and Smith's constant presence at halftime and at the wall (15-19, 19-23). The 2-0 lead in favor of the defending champions comes at 20-25 with Sliwka unstoppable.
The Gialloblù once again tried to fight back and in the third period went ahead on +2 (6-4) with a good start by Lavia (also scoring at the wall) and a spurt by Podrascanin, who after a bad attack error redeemed himself with a winning first half and an ace was worth 11-9 (time out Cretu). On the restart, Trentino Itas leads until 15-13, before running into a series of free errors at the net (Kaziyski and Michieletto) that hand the reins of the game back to the opponents (15-16). The Poles fly to +2 (17-19), but an ace by Sbertoli ties the score at 21. At the sprint the teams come in tied; Trento with Michieletto gets the first set ball, which Lisinac thwarts by sending his serve into the net. Semeniuk turned the tide by procuring the first of seven match balls; Trento nullified them up to 30-30, then Kedzierzyn-Klozle capitalized on the 30-32 that closed the match.
Trentino Volley Srl
Press Office