Trento, 02 June 2022
Lisinac remains in Trento! Annual contract renewal for the serbian middle-blocker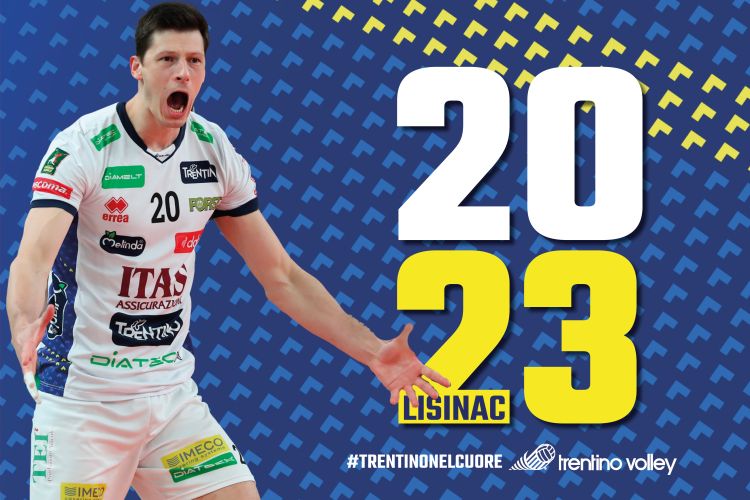 June opens with a thick confirmation for Trentino Volley: Srecko Lisinac will wear the yellow-blue T-shirt also in the 2022/23 season. The agreement for the one-year contract renewal with the Serbian middle-blocker, signed in recent days, will allow the team trained by Angelo Lorenzetti to continue to have one of the most talented athletes ever in his role.
Fundamental element of the Trentino Volley way of playing since 2018, the year in which he arrived in Italy after a long experience in Poland, the popular "Liske" has quickly become one of the darlings of Trentino's viewers, conquered by powerful attacks in the first half but also of exceptional ideas in the fundamentals of blocking and serving, which make him one of the most complete players on the international scene. His confirmation completes the central department of the 2022/23 roster and offers a signal of continuity in view of the next championship. In his first four seasons in the Trentino Volley T-shirt, marked by the victory of two international titles (Club World Cup 2018 and CEV Cup 2019) and the 2021 Supercoppa, Lisinac has become a symbol of this club, so much so that he quickly climbed to seventh place. in the ranking of scorers in the yellow-blue history, thanks to 1,565 personal points.
"This confirmation is a real blow to the market, because we are talking about one of the best middle-blocker in the world," declared President Bruno Da Re. "We strongly wanted his renewal to continue our technical, tactical and human path. He didn't lack offers but the fact that he decided to sign the second renewal of his career with Trentino Volley shows how much Srecko has bonded with this environment and how much he feels at home. We are thrilled to see him playing again at the BLM Group Arena".
"It was my firm will to continue the path I took with this team last season," said Srecko Lisinac. "I found myself very well with this group and I live a reality like that of Trentino Volley that I had already learned to appreciate in previous years. Let's move forward together, in search of other important victories and with the desire to achieve more prestigious milestones as has often happened to us in recent years. I really had no reason to change T-shirt. The young players during this last season have brought great enthusiasm and made even experienced players like me, Kaziyski and Podrascanin feel perfectly at ease."
Trentino Volley Srl
Press Office