Trento, 01 July 2022
Market, the opposite Gabriele Nelli comes back to wear the jersey of Trentino Volley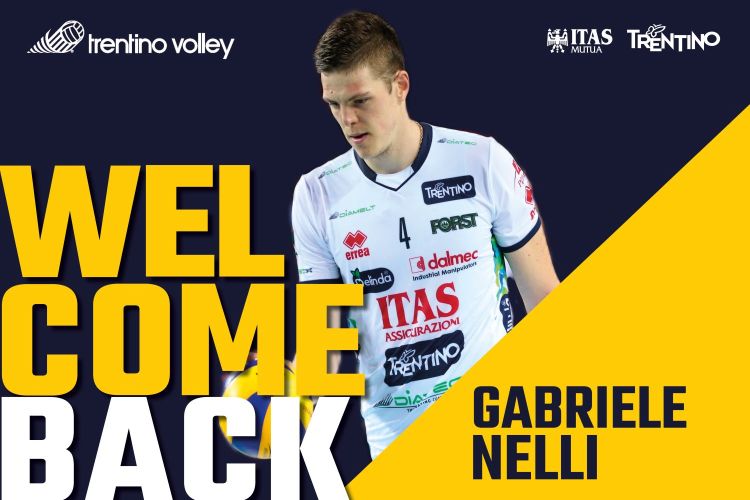 After two absolute news like Dzavoronok and Laurenzano, the summer session of the 2022 market offers an appreciated return for Trentino Volley: in the 2022/2023 roster there will be indeed space also for Gabriele Nelli, the twenty-year-old opposite spiker grown in the Youth section.
After two seasons from last time, the hammer from Tuscany will be able to wear once again the Yellow-blue jersey and he will do so taking with him the great experience achieved in the last seasons, lived playing not only in the Italian Championship but also in the Russian and French ones. After winning the Club World Championship, as absolute protagonist, the CEV Cup with Trento in the 2018/19 season, Nelli has indeed played in Piacenza, Belgorod, Cannes and Vibo Balentia.
"In giving Gabriele a welcome back, I must refer to the previous and positive experiences that we had together in Trento," said the trainer Angelo Lorenzetti. "This return encounters two needs: our need to find a substitute of great value for Pinali in the new team and the one of a player, who saw in the Society, where he grew up, the right place to play once again and find his best volleyball, something that in the last years lost a bit because of some physical problems. We hope that all of this can now be just a bad memory. Nelli is a player that in Trento does not need a presentation and so I have to express my great satisfaction for the Club's choice to bring him back here."
He will be wearing the T-shirt number 2 (the one that he wore in the years of the debut in the first team).
The card
GABRIELE NELLI
born in Lucca, December 4th 1993
208 cm, role opposite spiker
2009/10 Trentino Volley giov. e C
2010/11 Trentino Volley giov. e B2
2011/12 Trentino Volley giov. e B2
2012/13 Trentino Volley giov. e B2
2013/14 Diatec Trentino A1
2014/15 Energy T.I. Diatec Trentino SuperLega
2015/16 Diatec Trentino - SuperLega
2016/17 Diatec Trentino – SuperLega
2017/18 Kioene Padova - SuperLega
2018/19 Itas Trentino SuperLega
2019/20 Gas Sales Piacenza SuperLega
2020/21 Belogorie Belgorod – Russia
2021/22 As Cannes Dragons – Francia
dic. 2021 Tonno Callipo Calabria Vibo Valentia SuperLega
2022/23 Itas Trentino SuperLega

Palmares
1 Club World Championship (2018)
1 CEV Cup (2019)
1 Italian Championship (2015)

In the national team
91 presences with the Italian national team
Gold medal in the Juniores European championship (2012)
Bronze medal in the Under 23 World Championship (2015)
Bronze medal in the Under 21 World Championship (2013)

With Trentino Volley
Debut on December 22nd 2013 (Perugia-Trento 2-3)
136 presences (6 in 2013/14, 20 in 2014/15, 23 in 2015/16, 43 in 2016/17, 44 in 2018/19)
722 points (21 in 2013/14, 83 in 2014/15, 196/ in 2015/16, 270 in 2016/17, 152 in 2018/19)
Trentino Volley Srl
Press Office