Trento, 18 July 2022
"New look, same passion": the subcription campaign 2022/2023 starts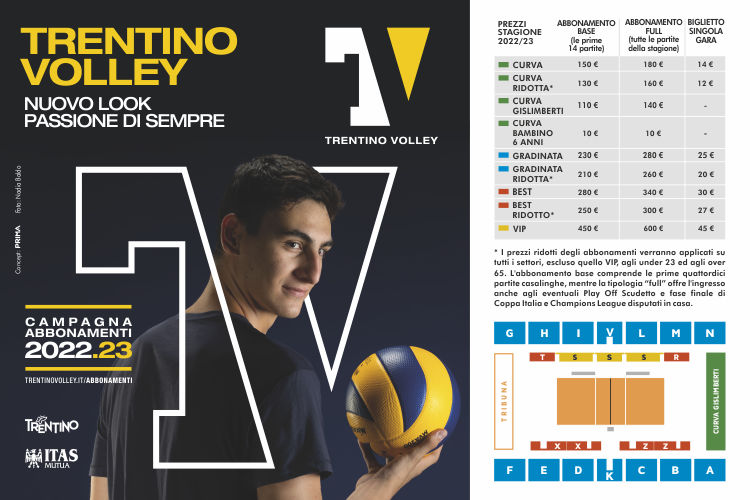 According to tradition, the launch of the new SUBCRIPTION CAMPAIGN represents exactly the opening of the new sports season of Trentino Volley. The one starting in October will be a particular competitive year for the Club of via Trener that wants keep attracting the interest of its fans, after the renewal of its logo, with big and new emotions and a high-level sports performance. This is why they have chosen a slogan that insists on this concept: "New look, same passion".
The Subscription Campaign of Trentino Volley begins from Tuesday 19th July and, for the first time, it will be double as it includes male and female sectors at the same time, with prices and packages dedicated to every single reality. For this reason, they have decided to carry on one single claim, with two different versions of a coordinated image with brothers Micheletto as main characters: Alessandro representing the male sector and Francesca the female one.
All the details of this initiative have been shown this afternoon at the prestigious Sala Depero of Grand Hotel Trento (partner of the Society for conferences and press releases for years) in a crowdy meeting in which authorities, executives, sponsors, fans and medias have taken parts.
"In periods of strong division like this it is wonderful to receive an important message from those who got together and found closer forms of collaborations" – said during the opening the Mayor of Trento Franco Ianeselli - . On behalf of the city, I can only say that this project is really appreciated, because it seemed so difficult to reach but at the end it has become reality in a short time".
"Trentino Volley give pride and emotions to our territory and it continues to be present in high levels of national volleyball thanks to the work of this society" – explained during the opening the President of Provincia Autonoma di Trento Maurizio Fugatti, who took part in the press release - . I am sure that the Female Sector, which has just been started, will give us great satifscations and more visibility. Partnerships as Trentino Volley did and will continue to open the path and stimulate the sports movement and they are good for the entire population of Trentino".
"The actual big presence enriches our makes us happy in this moment traditionally considerated as the opening of the season – explained Daniela Filbier on behalf of CdA of Trentino Volley - . The many and recent news that have been shown in a rapid sequence have helped to make this event even more interesting; among them there is the new logo and the female sector".
"The combination of male and female sector will surely guarantee great satisfactions – said the President Bruno Da Re - ; we have always believed in it and we completed it, encouraged by the Municipality and Province of Trento. Having the President of the Province and the Mayor here a tour conference is really significant, because it shows that we are doing something important".
"It is a pleasure being among those who are giving life to the second phase of the history of Trentino Volley – explained the Sports Executive of Female Sector Duccio Ripasarti - ; we will use the male sector as example in order to start writing our adventure. There will be a discount of 50% on the female subscription for all those who subscribe to the SuperLega; we want to make sure that we are a single family and we want to boost our fans to follow both the realities".
In order to promote claim and images coordinated by the Subscription Campaign 2022/2023, Trentino Volley will use the usual channels (press releases, newsletters, and social networks) but it will also start an advertising campaign, both digital and local.

Here below all the details.
MALE SECTOR
TWO KINDS OF SUBSCRIPTION. The big news of season 2022/2023 is the possibility to choose between two different types of subscription: standard or full. The "standard" includes the first fourteen home matches: eleven in regular season of SuperLega Credem Banca and three of the round stage of 2023 Cev Champions League. The "full" card offers the entry for all the official games of Itas Trentino at BLM Group Arena during the whole sports year, including also Play Off Scudetto, quarter finals of Italian Cup and Playoffs Champions League.
SEATS AND AREAS. Four areas, all enumerated, of BLM Group Arena in which it will be possible to buy the subscription: Vip, Best, Gradinata and Curva. Each subscription refers to a specific area at BLM Group Arena. It will not be possible to purchase the subscription of Tribuna Est, which will be probably reserved to the host audience.
ONLINE SHOP. It will be possible to subscribe even by internet, thanks to the online service offered by the partner Vivaticket: www.trentinovolley.it/abbonationline all the instructions needed for the purchase can be found here; the card can be taken at any moment showing the receipt at the offices of Trentino Volley in Via Trener 2 in Trento.
PREEMPTION. Those subscribed to the second round 2021/2022 have the right of preemption up to Friday 9th September, confirming their place and paying the subscription withing that date. The preemption can be made by internet, by clicking at www.trentinovolley.it/abbonationline. It won't be possible to purchase the subscription to seats that are still subjected to preemption until 9th September; all the others will be regularly sold from the first day of the Subscription Campaign.
REDUCTION. The reduced prices will be applied on over 65 and under 23 on all the areas (Vip excluded). Differently from past years, the "under" age has been raised in order to ease the subscription of younger fans.
CAF ACLI AFFILLIATION. All those who subscribe will receive also as a gift a special card CAF ACLI, which allows a 10% discount on all CAF ACLI services (official sponsor of Trentino Volley).
IMPORTANT NOTE. According to the national and regional regulations regarding covid-19 spread, Trentino Volley reserves the right to control the entry to BLM Group Arena during the official matches.
Trentino Volley Srl
Press Office