Bologna, 20 July 2022
Market, completed transactions and Trentino Volley roster for the 2022/23 SuperLega season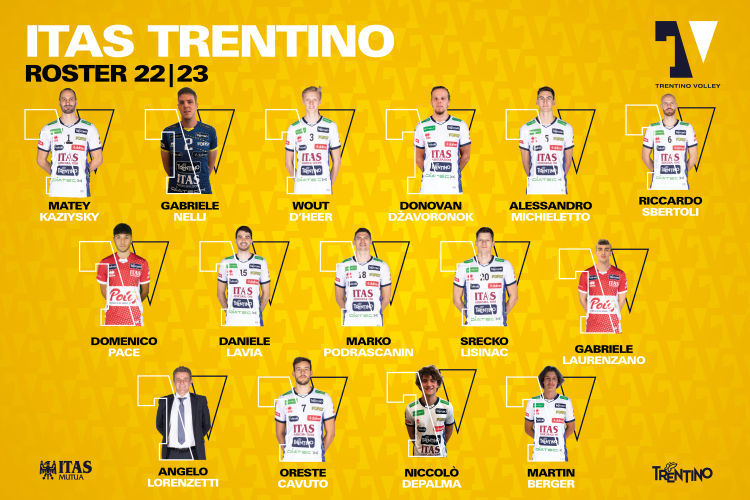 The time period for signing up athletes from the twelve clubs registered for the 2022/23 SuperLega Credem Banca ends today.
Trentino Volleyball formalizes the completed negotiations:
INCOMING
Martin Berger (center), SSV Bruneck
Niccolò Depalma (setter), UniTrento Volleyball
Donovan Dzavoronok (setter), Vero Volley Monza
Gabriele Laurenzano (libero), Gioiella Prisma Taranto
Gabriele Nelli (opposite spiker), Tonno Callipo Calabria Vibo Valentia
Domenico Pace (libero), Kemas Lamipel Santa Croce

OUTCOME.
Daniele Albergati (opposite spiker), Shedirparma Massa Lubrense
Carlo De Angelis (libero), Tinet Prata di Pordenone
Giulio Pinali (opposite spiker), Emma Villas Aubay Siena
Lorenzo Sperotto (setter), Conad Reggio Emilia
Julian Zenger (libero), Kioene Padova

The roster for the 2022/23 sports season:
Setters: Riccardo Sbertoli and Niccolò Depalma
Opposite spikers: Gabriele Nelli
Hitter spikers: Oreste Cavuto, Donovan Dzavoronok, Matey Kaziyski (Bul), Daniele Lavia and Alessandro Michieletto
Middle blockers: Marko Podrascanin (Srb), Srecko Lisinac (Srb), Wout D'Heer (Bel) and Martin Berger
Libero: Gabriele Laurenzano and Domenico Pace
Coaches: Angelo Lorenzetti (1st) and Francesco Petrella (2nd).

On Thursday, July 21, at 2:30 p.m., at Zanhotel & Meeting Centergross in Bentivoglio, on the outskirts of Bologna, the 78th SuperLega Credem Banca championship schedule will be presented. It will be possible to follow the presentation via the Internet by connecting to the Lega Pallavolo Serie A YouTube channel, which will stream the event live.
Trentino Volley Srl
Press Office