Trento, 09 August 2022
At work for the first training session week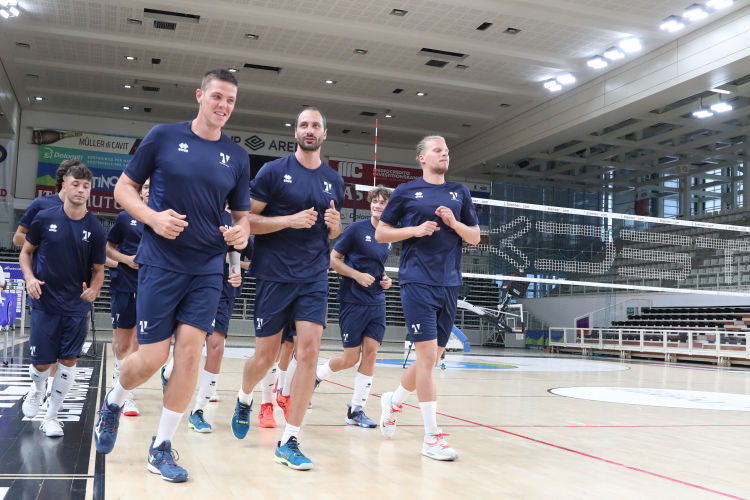 At the BLM Group Arena the spotlight is once again on Itas Trentino: in fact, late this afternoon the preparation for the 2022/23 season of the Trentino Volley men's has begun.
A little less than eight weeks before the debut in the SuperLega Credem Banca (scheduled for October 2 right in the facility of via Fersina against Siena) the Gialloblù lineup gathered and started to carry out the training program that, at least in the first part, will be characterized by the presence in the gym of less than half of the players of the new roster; all the others are working with their respective National Teams, since at the end of August the World Cup will start and in mid-September the European Under 20 Championship will be played.
Therefore, only five of the fourteen players on the official roster were present to answer Angelo Lorenzetti's first summons today: the "captain" Matey Kaziyski, the returning Gabriele Nelli and the new faces of Domenico Pace (libero), Niccolò Depalma (setter, promoted from the nursery) and Donovan Džavoronok. Just the presence from the first day of the new Czech setter (together with Laurenzano main shot of the summer Gialloblù market) was inevitably the most interesting element of the first training session, catalyzing the attention of the media present. Starting Thursday, the young South Tyrolean center Martin Berger, taken from SSV Bruneck just in the last hours of the market, will also join. Together with the small group of Gialloblù players, six of the most interesting prospects from the Youth Sector, who will then play the Serie B championship with UniTrento Volleyball, will train: riser Bernardis, opposite Brignach, setters Bristot and Parolari, and centerbacks Dell'Osso and Frassanella.
Already full the technical and medical staff (confirmed in its entirety from the previous season) that will work throughout the season with the coach from Marche; to make sure that the work of the Gialloblù proceeds in the best way there will still be Team Manager Riccardo Michieletto, in his eighteenth season between field and desk in Trentino Volley, Assistant Coach Francesco Petrella, Scoutman Fabio Dalla Fina, Athletic Trainer Lorenzo Barbieri (who directed today's first workout in the weight room, immediately followed by an hour of technique), Physiotherapist Luca Pirani and Company Physician Mauro Bertoluzza.
The schedule for the first week of preparation will include a double training session on Thursday and Friday and morning-only sessions for those of Wednesday and Saturday (the last day of work of the inaugural period); however, the younger players will also be given additional activity on the afternoon of August 10.
Still being finalized is the schedule of friendly matches, which, at the moment, only includes participation in the "Volley under the Mound" tournament in Biella, a quadrangular with Modena, Civitanova and Monza scheduled between September 24 and 25.
Trentino Volley Srl
Press Office