Biella, 25 September 2022
Preparation is over with the Final of the four-way competition in Biella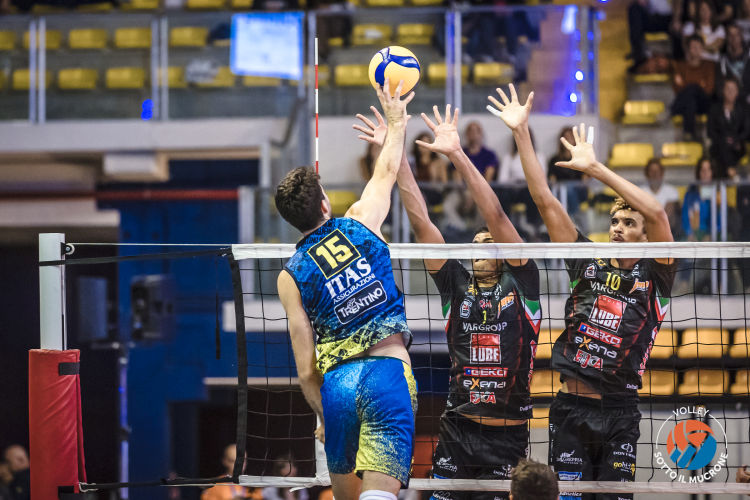 Itas Trentino closes its pre-championship with the four sets played during the final of the four-way competition "Volley under Monte Mucrone" in Biella in front of 4.268 spectators, who were enthusiastic about the show. The last test before the debut in SuperLega Credem Banca 2022/23, foreseen for next week in BLM Group Arena against Siena team, saw the yellow-blue team compete for the four-way competition's victory played in Piedmont against Cucine Lube Civitanova Italy's Champion, but the opponents won the match 1-3 eventually.
A correct result for what Marches' teams showed off (more dynamic at the net and incisive in serve) during the whole match, but it does not wipe out the many positive things that the yellow-blue team showed off this weekend; in today's match, beyond the defeat, the audience appreciated the will to fight and to go up the slope after the first three sets, closed with the sprint on behalf of Cucine Lube, despite the skills demonstrations of Michieletto (best scorer with 20 points, 55% at the net, two blocks and an ace), Lisinac (11 with 73% on the first half and three blocks) and Džavoronok, who made a good entrance on serve during the second set and the following good level partials (60%).
Here's the match report. Lorenzetti confirms the team formation of the previous day: Sbertoli as setter, Lavia as opposite spiker, Michieletto and Kaziyski as hitter spikers, Podrascanin and Lisinac as middle blockers, Pace as libero; Blengini, Civitanova Marche's coach, replies with De Cecco as setter, Gabi Garcia as opposite spiker, Zaytsev and Bottolo in place 4, Chinenyeze and Anzani as middle blockers, Balaso as libero. The yellow-blue team starts playing in a convincing manner (5-3 and 11-8), especially thanks to Michieletto's verve; Cucine Lube does not give up and with Zaytsev and Balaso (amazing in defense) goes back on itself, before taking the reins of the game (15-20), also because of Bottolo's entrance in the court, who brings forward white-red team's scoreboard and it scored 20-25 at the change of ends.
Nothing changes during the second partial, where Civitanova keeps on ruling the roost on serve, block and defense, going immediately at +4 (2-6), holding back the opponent's attempt to get back in the game (from 4-6 to 6-11). Itas Trentino tries with all of ist effort (14-16), but Cucine Lube does not allow it and this time, with Bottolo's service, it keeps on going bad in the second line, forcing Kaziyski to a direct error twice in a row (14-19).

In the most difficult moment, Sbertoli and his teammates break through and with a very heavy 9-4 partial, signed mainly by the captain himself and by Džavoronok on serve, they found an unbelievable tie at 23. At the earliest opportunity, however, it was Blengini's team that got the upper hand; Gabi Garcia realizes a break point that scored 23-25 and 0-2.
In the third set Lorenzetti leaves the Czech hammer on the court (for Kaziyski) and rotates D'Heer with Podrascanin to give the two first-string some rest, but also to try to change something from a technical-tactical point of view.
The move has the desired effects, as it is Trento who starts ahead (5-4), then also finds a double lead (10-8) with Lavia. The Cucine Lube sharpens its serve and ties the score at 14 with an ace by Chinenyeze, but Michieletto brings a new break (18-16 and 20-18).
Bottolo blocked Lavia (21-21), but eventually it was Džavoronok, again with the serve, who signed the new +2 (23-21) that was worth 1-2, as Lisinac secured the score with the winning first half 25-23.
In the fourth set, the Cucine Lube leaves Gabi Garcia at rest, moving Zaytsev as opposite spiker and inserting Gottardo; a choice by Blengini that pays off, because within a few minutes the white-red team carries on with the score (8-10 and 10-13).
In the middle section Bottolo and De Cecco make the difference (14-19). Then Lorenzetti brings in Nelli and Cavuto as well, but the comeback fails (16-21, 17-23). Civitanova wins 3-1, dragged by Zaytsev. Now focus on the SuperLega.
Below is the scoreboard of the final of the "Volley Under Monte Mucrone" four-way competition, played tonight at the Biella Forum in Biella.
Cucine Lube Civitanova-Itas Trentino 3-1
(25-20, 25-23, 23-25, 25-17)
CUCINE LUBE CIVITANOVA: Zaytsev 24, Gabi Garcia 12, Anzani 2, Bottolo 18, De Cecco, Chinenyeze 9, Balaso (L); D'Amico, Diamantini 1, Sottile, Gottardo 2. N.e. Yant. All. Gianlorenzo Blengini.
ITAS TRENTINO: Sbertoli 3, Michieletto 20, Podrascanin 3, Lavia 7, Kaziyski 11, Lisinac 11,Pace (L); Nelli, Džavoronok 7, D'Heer 2, Cavuto 1. N.e. Berger and Depalma All. Angelo Lorenzetti.
REFEREES: Simbari of Milan and Rossi of San Remo.
SET DURATION: 25', 31', 28', 23'; tot 1h 47'.
NOTES: 4,268 spectators. Cucine Lube Civitanova: 4 blocks, 8 aces, 10 hitting errors, 10 action errors, 46% offense, 50% (25%) reception. Itas Trentino: 8 blocks, 4 aces, 18 hitting errors, 10 action errors, 42% in attack, 54% (26%) in reception.
Trentino Volley Srl
Press Office