Trento, 27 September 2022
Season kicks off, sponsors and partners gather at Itas Forum to get to know the new teams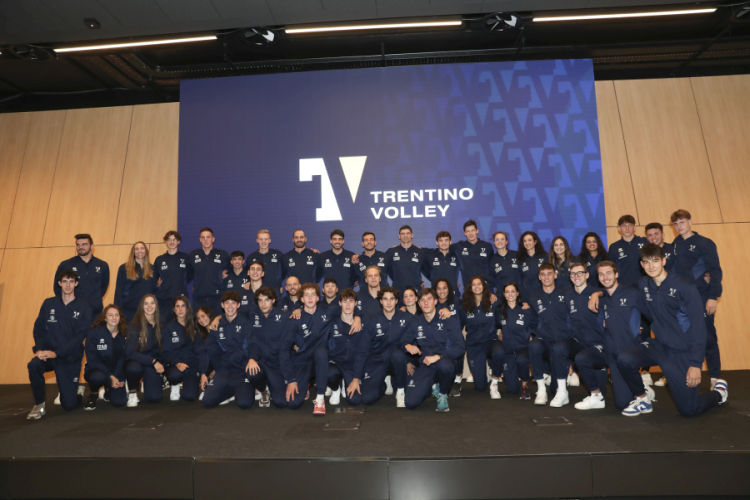 Waiting for meeting supporters in person on Friday, September 30th in Piazza Pasi, Trentino Volleyball organised a vernissage dedicated to sponsors and partners at Itas Forum this evening to officially open the new season with all those who believe in the project of the yellow-blue club and support it.
At the brand new structure of the historic Main Sponsor, recently built in the Albere district in Trento, all the fellow travellers of the Club of Trener street (more than 150) were therefore able to learn in detail about the yellow-blue team's goals for the competition year that opens on Sunday and, especially, to meet players and staff of the two shortlists at the starting line in men's SuperLega and women's Serie A2.
The situation was also opportune to listen to the words of President Bruno Da Re (who throughout his speech outlined the guidelines for the coming months and explained the choices made in the summer on several fronts), those of the institutions present and to celebrate the many gold medals won during the latest summer by the Azzurri players of Trentino Volleyball: not only the world champion Lavia, Michieletto and Sbertoli, but also baby Bristot and Fedrici (European Under 18 champions) and libero Laurenzano (newly crowned with the Under 20 continental title won Sunday night in Montesilvano).
The host was Fabrizio Lorenz (President of Itas Vita), who reiterated how important and deep-rooted is the alliance between the Insurance Institute and the yellow-blu Society; then the evening's presenters Sara Ravanelli and Gabriele Biancardi (representing the media partners RTTR and Radio Dolomiti) brought on stage the Councillors for Sport Failoni (Province) and Panetta (Municipality of Trento) and the coaches Saja and Lorenzetti who presented their staffs. Last but not least, the presentation of the new jerseys (read about them separately).
The evening ended with an auspicious toast and buffet prepared by Livio Catering.
Happy season to all!
Trentino Volley Srl
Press Office