Trento, 27 September 2022
Innovative and original, with an eye on tradition: here are the Erreà Sport game uniforms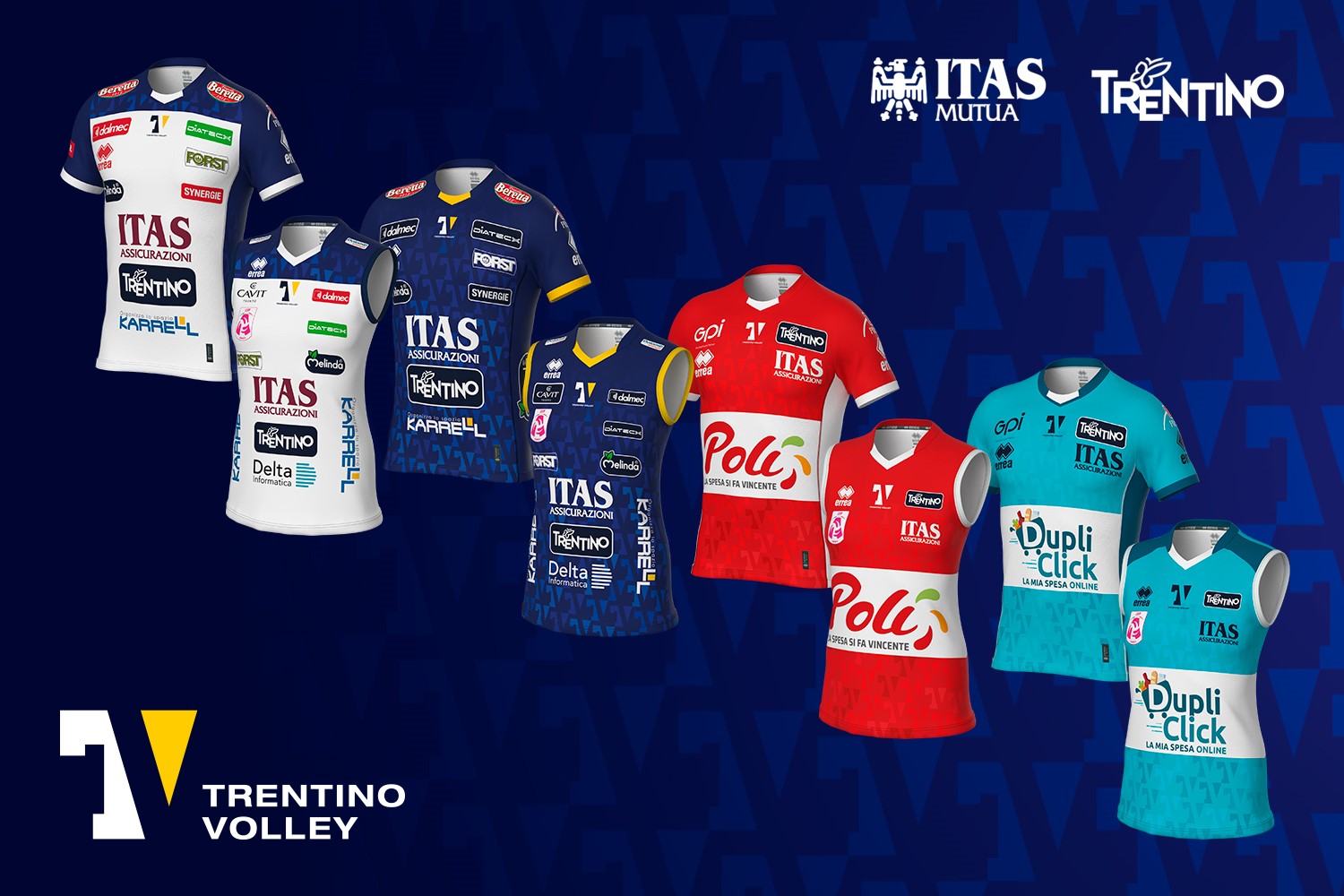 A look at the past, without losing the desire to be innovative and original once again. The new game uniforms that Itas Trentino athletes will wear starting next weekend, the day of the men's SuperLega debut (home hosts against Siena), immediately stand out for the freshness of the line adopted.

Designed graphically by the Prima Pubblicità agency and made by Erreà Sport (technical sponsor since 2006), the game jerseys offer many reminders of the past but also a desire to look forward and renew. They will have, above all, one big point in common: they will be identical for both men's Itas Trentino and women's Itas Trentino, so as to make the idea of belonging to the same big family even stronger. 
Distinctive references to the club's glorious history and the symbolism of the territory are present in the colours chosen: the first uniform is white, with an innovative blue band on the shoulders, the second one is yellow-blue. The new element is all in the pattern that characterises both: the pattern created on blue gradation thanks to the repetition of the new logo, a logo that finds for the first time great space in the centre of each uniform. 
The same pattern is also taken up on the libero's jersey - the first in red like the Poli Group brand that has been designing it since 2014, the second in light-blue gradation with a reference to the DupliClick logo - Poli Group's online shopping service.
 To make them, Erreà Sport used a highly technical fabric, ideal for volleyball, composed of fine stretch yarns that promote maximum stretch of the garment. Lightness, comfort, softness and exceptional strength; these are the main characteristics of the "Oeko Tex" used to make the garment by the yellow-blue technical sponsor. 
The uniforms will soon be on sale at the Trentino Volleyball offices in Trener street and in the store section of the official website by clicking on www.trentinovolley.it/store.
Trentino Volley Srl
Press Office