Trento, 13 November 2022
SuperLega, Itas Trentino keeps on succeeding at the BLM Group Arena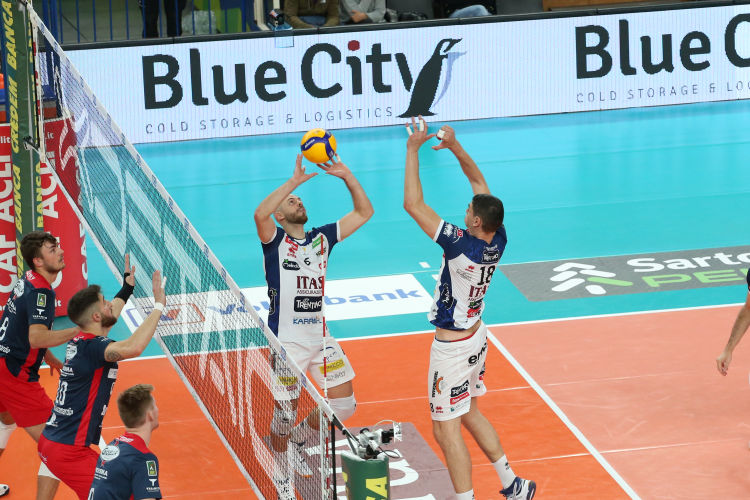 Itas Trentino's race in the SuperLega goes on by winning and by 3-0. Tonight, at the BLM Group Arena, the yellow-blue line-up beat with maximum effort also Gioiella Prisma Taranto in the match valid for the seventh turn of the regular season, collecting the fourth victory of the championship, the third overall in three sets, after last week's one in Monza and against Menen in the Champions League's home match.
The result confirms the second place in the rankings for Lorenzetti's team, on the eve of the first international away match of the season (on Wednesday the team will play in Czech Republic), in which Kaziyski and his teammates will feel better thanks to the performance shown tonight before their supporters. With the team's best attack (63% as a team with just three errors and four blocks suffered), the match was immediately set on the right track; the entire attack squad set all the rules, both at the break point and the sideout phase, as the statistics show: Kaziyski 16 points with 64%, Michieletto 15 with 60% (and three winning blocks), Lavia 12 with 62% (and two blocks, then chosen as mvp). It was the middle blocker Podrascanin who put the seal: 60% in the first half, 3 blocks and 2 aces for a total of eight winning balls, each one performed in key moments. Considering this shock wave, Taranto team tried to reply only in the second set, making the way to the hosts in the other two sets.
Below is the scoreboard of the match valid for the regular season's seventh week of the SuperLega Credem Banca 2022/23 played tonight at the BLM Group Arena.
Itas Trentino-Gioiella Prisma Taranto 3-0
(25-17, 25-21, 25-17)
ITAS TRENTINO: Podrascanin 8, Sbertoli, Michieletto 15, Lisinac 5, Kaziyski 16, Lavia 12, Laurenzano (L); Nelli, Džavoronok. N.e. D'Heer, Cavuto, Pace, Berger e Depalma. Coach Angelo Lorenzetti.
GIOIELLA PRISMA: Loeppky 12, Larizza 6, Stefani 11, Antonov 5, Gargiulo 3, Falaschi 1, Rizzo (L); Pierri, Cottarelli, Ekstrand 1, Andreopoulos. N.e. Alletti, Lucconi.
Coach Vincenzo Di Pinto.
REFEREES: Verrascina di Roma e Puecher di Rubano (Padova).
SET DURATION: 27', 27', 24'; tot 1h e 18'.
NOTES: 1.997 spectators, with proceeds of €14.302. Itas Trentino: 9 blocks, 2 aces, 12 hitting errors, 3 action errors, 63% in attacks, 73% (25%) in reception. Gioiella Prisma: 4 blocks, 1 ace, 13 hitting errors, 4 action errors, 44% in attack, 39% (16%) in reception. Mvp Lavia.
Trentino Volley Srl
Press Office