Trento, 13 November 2022
Itas Trentino-Prisma Gioiella Taranto 3-0, the match report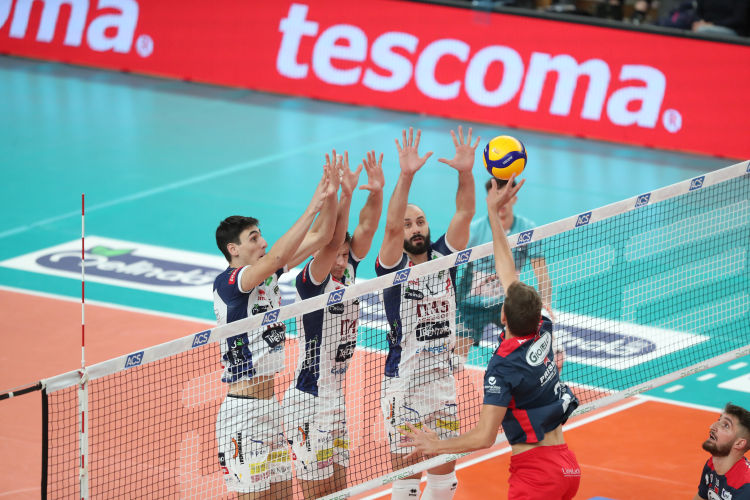 Here's the match report. After having applied a big turnover in the midweek European appointment, Angelo Lorenzetti proposes his Itas Trentino in its standard line-up again; the starting six counts Sbertoli as setter, Kaziyski as opposite, Lavia and Michieletto as hitter spikers, Podrascanin and Lisinac as middle blockers, the freshly former Laurenzano as libero. Taranto replies with Falaschi as setter, Stefani as opposite, Loeppky and Antonov as hitter spikers, Larizza and Gargiulo as middle blockers, Rizzo as libero. The hosts start the game at a fast pace, such that at 3-0, and after Michieletto's block on Antonov and one from Lisinac on Stefani, the coach Di Pinto calls the first time out for Prisma. When the game resumes, the +3 remains the same for long, until Michieletto makes another break point, in attack this time (9-5), and then the opponent team 's attackers do not manage to avoid yellow-blue's hands (12-7). In the second half of the partial Gioiella tries to score with Stefani (ace) and Falaschi (directly with an attack), drastically reducing the disadvantage (12-11). After Lorenzetti's time out, Itas Trentino needs a few moments to catch up, but then, with Podrascanin's service (two consecutive aces), takes over again (from 16-14 to 19-14), securing the set quickly and going to the change of ends already at 25-18 after scoring other points during the rebuilding phase thanks to Lavia (his block-ceiling secures the partial).
The second set starts with more balance, but Trento must wait for 6-4 (Michieletto) to cast the opponent aside, who however tries to keep standing (10-8). After chasing for long, Taranto ties the score at 26 (Kaziyski error) and then speeds up with Antonov (16-17), taking the lead for the first time in the whole match. Lorenzetti's time out is now more appropriate than ever, because once resumed the game, the yellow-blue team closes the partial at 3-0 (Lavia and Lisinac scored in the break point phase) that makes the hosts' scoreboard safe. Michieletto takes the lead in the final set (22-19) towards 2-0, which then arrives at 25-21 (Falaschi second-line foul).
Itas Trentino intend to gain the third 3-0 over seven days and during the third set, it takes over Gioiella Prisma (6-3 and 10-5), thanks to the Podrascanin's efficiency in each fundamental and the Kazyiski's consistency at the net. The captain does not waste a single chance of a break point (14-7); Di Pinto tries to change some members (he inserted Ekstrand at the place of Stefani), but with poor results (17-10 and 21-13). At the BLM Group Arena, the 3-0 is made on 25-17, with Michieletto always in the spotlight.
Trentino Volley Srl
Press Office