Perugia, 20 November 2022
SuperLega, Perugia hangs on to the seasonal invincibility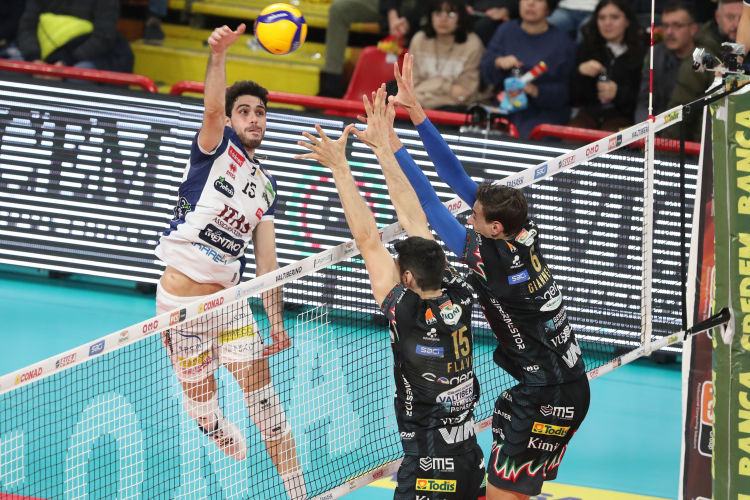 Sir Safety Susa shows the value of home advantage and hangs on to the seasonal invincibility in the top competition of the eighth turn of the regular season of the SuperLega Credem Banca 2022/23. This afternoon, at the PalaBarton in Perugia, Itas Trentino had to face the fourth defeat of the championship, giving up for 1-3 against the well-known hosts, and at the same time, interrupting the series of five victories in a row. By competing against a team that took the lead so far, and won the first trophy of the year, Lorenzetti's team played fairly in three out of four sets and showed off some good performances moments, which could have been crucial to make the rankings move forward, if only they had a little more luck and determination. Itas Trentino showed its best in the second half of the first set (won 25-22 after having suffered from a 14-18, moved forward by the amazing Lavia) and in the third set, in which it succeeded in taking away a hosts' set ball before giving up at the set beyond the normal score. Perugia showed off its usual good skills at the net (52% in attack, without direct errors and 17 blocks) and four players have scored at least 10 personal points (Rychlicki, Leon, Flavio e Russo). Lavia went against them until the end (19 points with four aces and a block), in a match in which the block-defense limited Kaziyski's strength (2 points, then replaced with Nelli after two sets). Despite the defeat against Cisterna in Monza and the forced break in Civitanova, the yellow-blue team still keeps the second place in the rankings.
Below is the scoreboard of the valid match of the eight matchday of the regular season of SuperLega Credem Banca 2022/23, played tonight at PalaBarton in Perugia.
Sir Safety Susa Perugia-Itas Trentino 3-1
(22-25, 25-19, 27-25, 25-13)
SIR SAFETY SUSA: Rychlicki 16, Leon 20, Russo 9, Giannelli 4, Semeniuk 10, Flavio 13, Colaci (L); Plotnytskyi, Ropret. N.e. Herrera Jaime, Solé, Cardenas Morales, Mengozzi. Coach: Andrea Anastasi.
ITAS TRENTINO: Sbertoli 2, Michieletto 13, Lisinac 5, Kaziyski 2, Lavia 19, Podrascanin 7, Laurenzano (L); Džavoronok 2, Nelli 3, D'Heer 1. N.e. Cavuto, Pace, Berger, Depalma. Coach: Angelo Lorenzetti.
REFEREES: Cerra from Bologna and Cesare from Rome.
SET LENGTH: 28', 26', 33', 23'; tot. 1h 50'.
NOTES: 3.664 spectators, proceeds not reported. Sir Safety Susa: 17 blocks, 6 aces, 22 hitting errors, 0 action errors, 52% in offense, 40% (19%) in reception. Itas Trentino: 6 blocks, 10 aces, 15 hitting errors, 11 action errors, 33% in attack, 43% (24%) in reception. Mvp Russo.
Trentino Volley Srl
Press Office