Trento, 26 November 2022
SuperLega, Allianz Milano wins 3-1 at the BLM Group Arena in the ninth turn's preview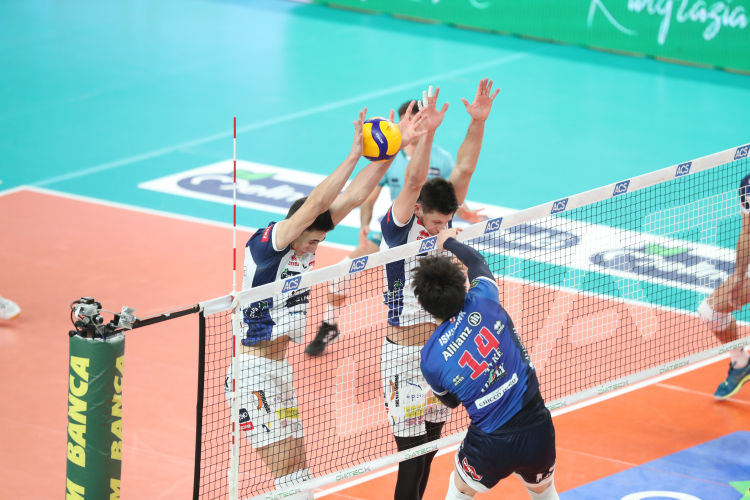 The ninth turn's preview of the regular season SuperLega Credem Banca 2022/23 did not bring Itas Trentino either satisfactions, or the victory it was looking for to redeem last Sunday's setback in Perugia. Tonight, at the BLM Group Arena it was Allianz Milano, who won 1-3, and this is the third overall victory ever (out of twenty competitions) against the yellow-blue Club.
Piazza's team proved once again its efficiency in the away matches; as it already showed in Padua, Modena and Monza, with a high incisiveness at serve (8 direct aces), at block (9 scoring ones) and in counterattack, since the start of the match it came up against the yellow-blue team, who tried to turn things in the second set and re-opened the competition. On 1-1 the scale is in the hosts' favor again, wild in the middle of the net with Ebadipour's surprisingly skills (best hitter with his 17 points and match's mvp) and incisive thanks to the attack squad of Patry and Ishiwaka. Trento replied with Lisinac (17 points with 83% in the first half, three blocks and one ace) and some sprints from Kaziyski and Lisinac but in the end, it was the lack of continuity during the sideout and reception phase that paid.
Below is the scoreboard of the valid match of the ninth matchday of the regular season of SuperLega Credem Banca 2022/23, played this evening at the BLM Group Arena.
Itas Trentino-Allianz Milano 1-3
(20-25, 25-21, 15-25, 22-25)
ITAS TRENTINO: Lavia 5, Podrascanin 4, Sbertoli 4, Michieletto 12, Lisinac 17, Kaziyski 14, Laurenzano (L); Džavoronok 6, Nelli, D'Heer 1. N.e. Cavuto, Pace, Berger and Depalma. Coach: Angelo Lorenzetti.
ALLIANZ: Porro 5, Mergarejo 11, Ebadipour 17, Patry 13, Ishikawa 15, Vitelli 10, Pesaresi (L); Lawrence 1, Bonacchi. N.e. Loser, Piano and Colombo. Coach: Roberto Piazza.
REFEREES: Luciani from Chiaravalle (Ancona) and Florian from Altivole (Treviso).
SET DURATION: 23', 29', 24', 27'; tot 1h 43'.
NOTES: 2.333 spectators, proceeds of 18.784 euro.
Itas Trentino: 9 blocks, 2 aces, 12 hitting errors, 10 action errors, 52% in attack, 41% (15%) in reception. Allianz: 9 blocks, 8 aces, 15 hitting errors, 2 action errors, 53% in offense, 34% (15%) in reception. Mvp Ebadipour.
Trentino Volley Srl
Press Office